Despite research finding less than half of Australian children play outside most days, when it comes to encouraging children to play outside, the teams at Young Academics Early Learning Centres (YA) do not have to ask twice.
With a network of 27 centres operating throughout Sydney and a significant number in the pipeline, the brains behind YA's outdoor learning environments have had plenty of experience in determining what works, what doesn't, and what will create the 'wow factor' for the children in their care.
Young Academics has been partnering with the experts from Aarons Outdoor for three years to create new outdoor play spaces for 12 of its centres, along with a number of outdoor refurbishments of existing spaces. Each space has been custom-designed to suit its unique location and achieve the perfect balance between open zones for imaginative and free play, and resources and equipment to develop motor skills and coordination like climbing forts, cycle tracks, soccer fields and trains.
To come up with fresh designs, Young Academics' Director of Operations Jenni Gaffney and Aaron Giddings from Aarons Outdoor undertake site visits to assess the potential flow from one piece of equipment to another, and chat to the children to find out what inspires and excites them in an outdoor learning environment.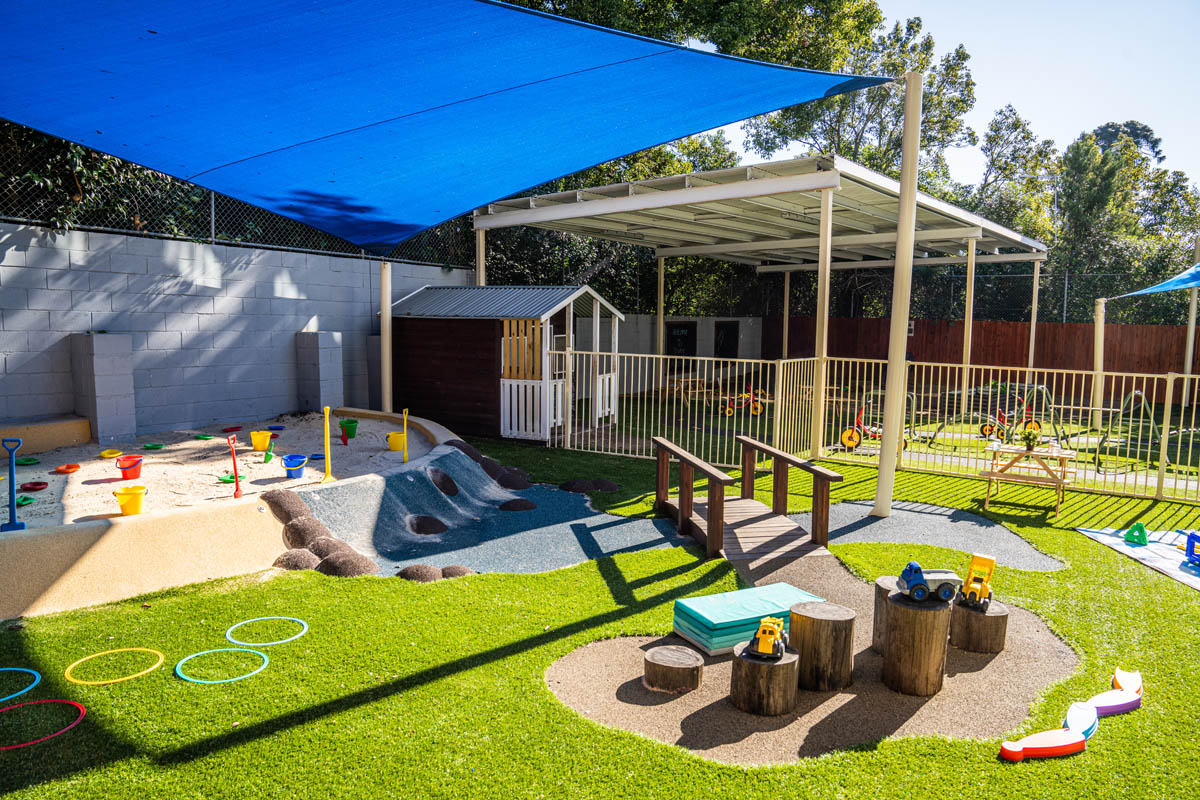 "Without question, the most fun aspect of designing outdoor areas for young children is talking to the children themselves," says Jenni. "They're so vibrant and full of great ideas, and it's incredibly important to take the time to truly understand which resources will appeal to the children – not which resources appeal to their parents or look good in marketing photographs – because our priority is creating environments which children will be eager to explore with their peers, whether they're playing a make-believe game, riding, dancing, or rock climbing.
"Our outdoor learning environments strive to protect children from harm whilst offering them the freedom to accept new challenges, collaborate, create and engage in 'risky play' to build their confidence and resilience," explains Jenni. "By creating climbing structures using quality, sturdy, safe materials without sharp edges and with soft fall surfaces underneath, we nurture children's natural curiosity and help them discover their physical limits."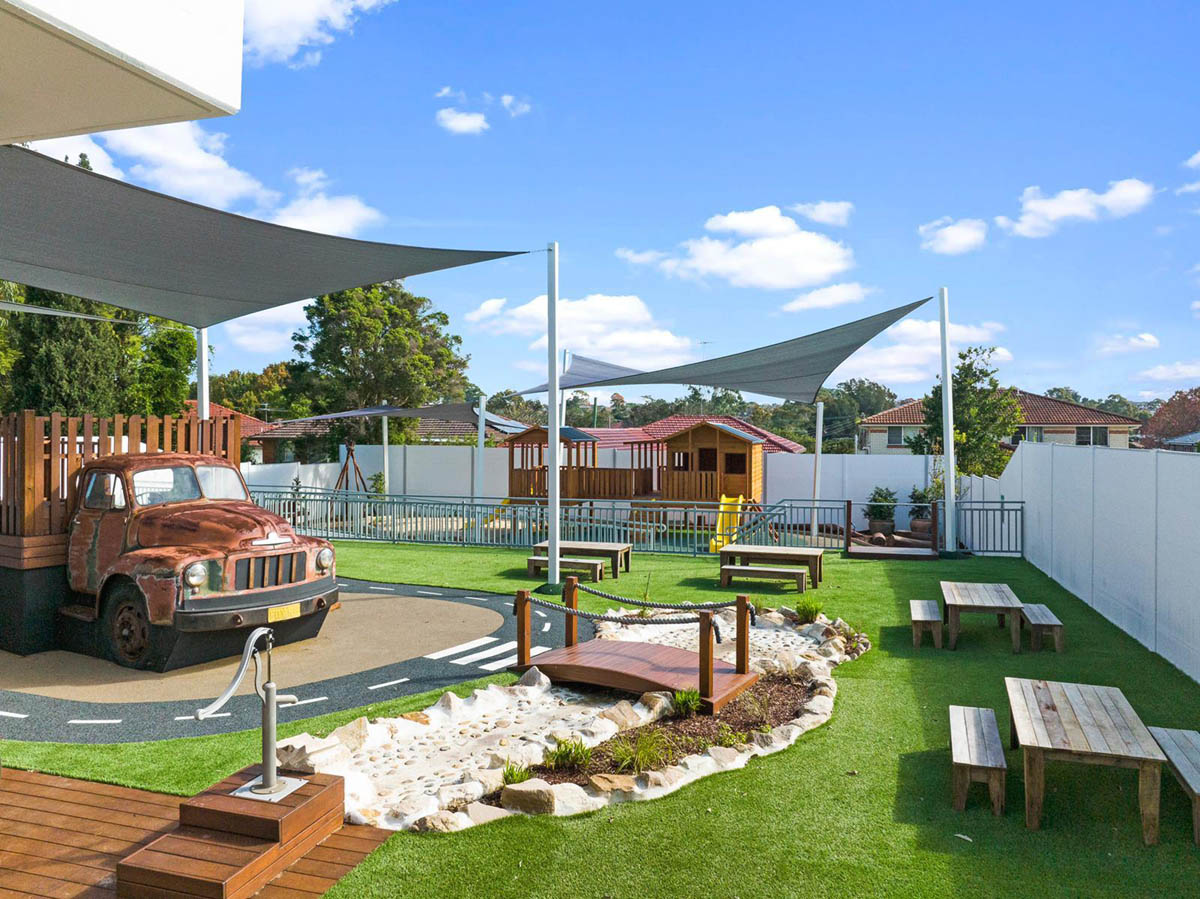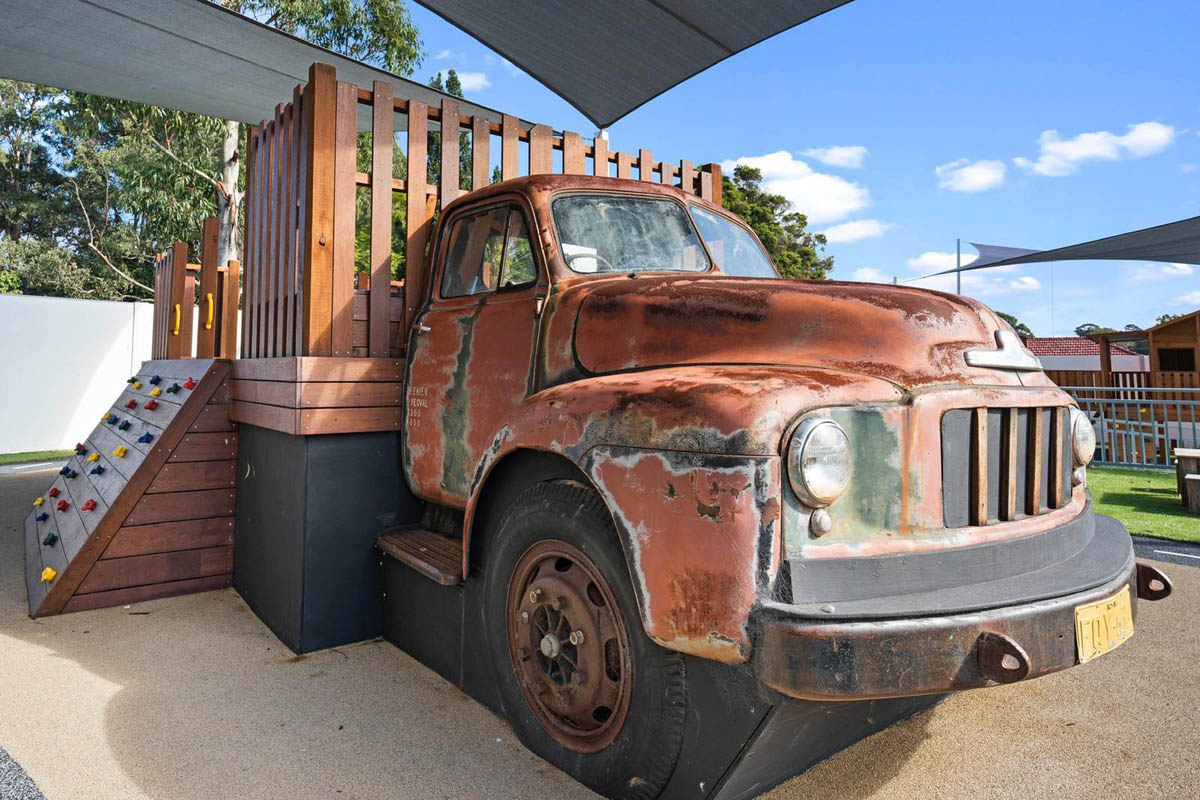 Aaron notes that what educators and children want from outdoor learning environments has changed significantly over the 30 years he's been working in the sector. "From the days of only using primary colours, steel and plastic in playgrounds to today's focus on more sustainable materials, natural colour palettes and nature-based play, designing interactive spaces for children is incredibly rewarding. For Jenni and me, there's nothing like seeing our initial vision come to life once the children actually start using the space."
The team at Aarons Outdoor also prioritises inclusiveness and accessibility – both physical and cognitive – in each outdoor environment's design, such as developing spaces to help neurodivergent children feel more comfortable socialising outside with their peers.
With nutrition also a core focus across Young Academics' network, the design teams also incorporate extensive vegetable gardens wherever possible to reinforce the importance of the paddock-to-plate philosophy by creating ways for the children to learn where their food comes from, nurture it, pick it, then see it served at snack or mealtimes.
Young Academics' centres which have recently benefited from newly built or renovated yards include Kellyville, Cranebrook, Penrith, Glenmore Park, Smeaton Grange, Bossley Park, Pendle Hill, Merrylands, and Harris Park.
"We are extremely proud of our outdoor learning offering and we are continually investing in new outdoor environments and reinvigorating existing designs to maintain our high quality and the children's curiosity," added Jenni, "because everything that matters to children…matters to us."