Marsden Park Childcare Centre
A boutique service focused on the individual needs and interests of children from six weeks to six years old, our Marsden Park Early Learning Centre offers a tailored program led by experienced educators committed to building confidence and a love of learning in every child.
The dynamic, welcoming indoor learning environment is centred around customised learning spaces to develop children's skills in areas including numeracy, literacy and STEM (science, technology, engineering and mathematics) as well as creative pursuits such as art, dramatic play and music.
Planned learning experiences help children engage in group work and develop problem-solving skills, while there is also plenty of time for rest, reflection, independent learning and experiential play.
In our outdoor learning environment, popular resources including the garden and sandpit, where children cooperate with their peers and explore nature at their own pace.
Our tailored Evolution Program has been designed for children up to age three, while those between three and five are prepared for kindergarten with our Transition to School Program.
Healthy meals and snacks are enjoyed five times daily, prepared by an expert in-house cook.
All bed linen, nappies and wipes are included.
Pooja Rani
CENTRE MANAGER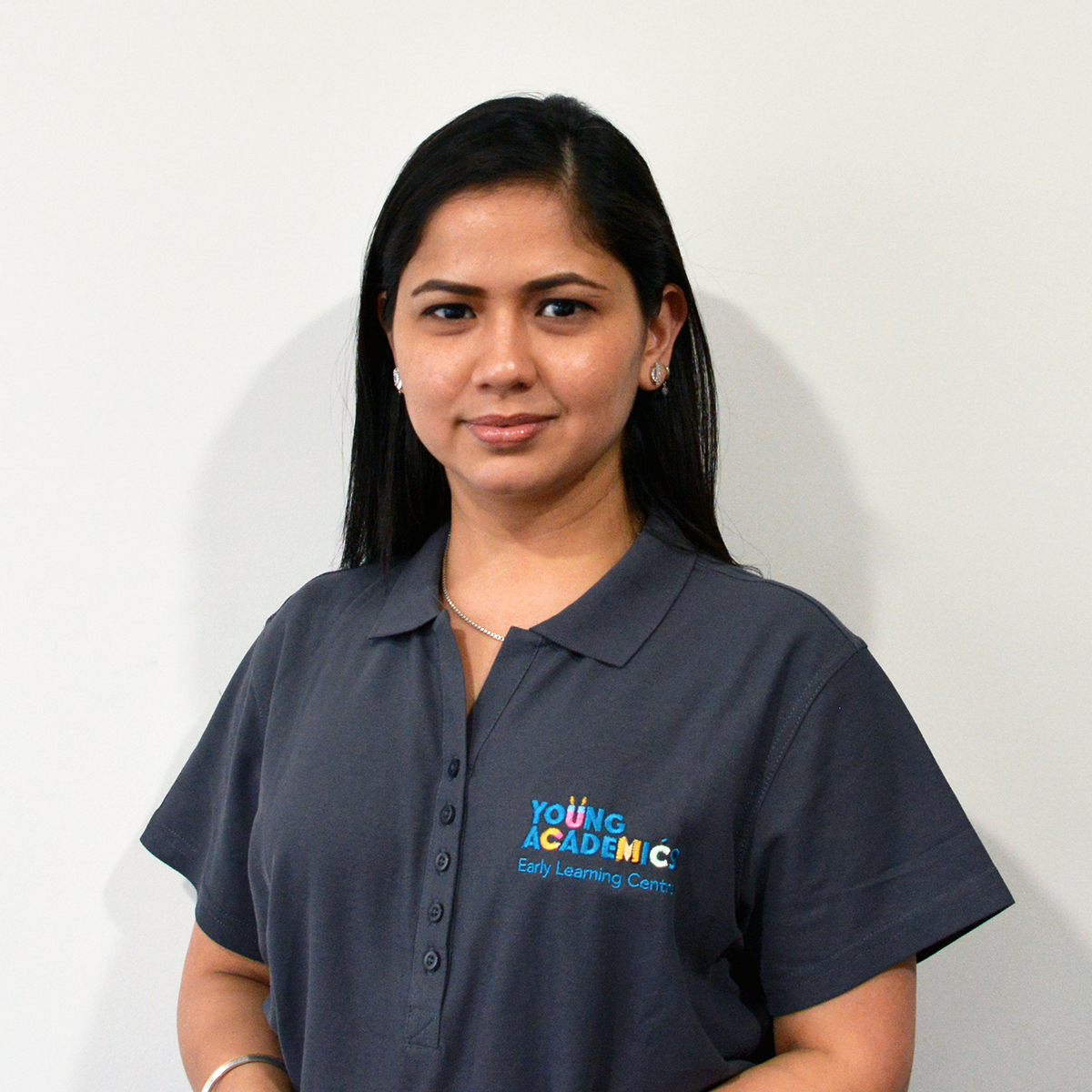 Pooja started her childcare career in 2015 as an assisstant educator. She feels very privileged to work with children everyday. Pooja finds great joy in her daily routine and having a hand in preparing our communitys children for their future.
"I get to see children's development and learning firsthand as children grow and flourish under our care.
In many families, parents rely on childcare so they can work, so they entrust us with their children – and what a privilege it is to play a role in children's lives during those vital first five years."
Helpful information
What we provide
5 nutritious meals prepared fresh daily by our on-site cook
Personal care resources like nappies, bibs and wipes
Ongoing parent/educator correspondence via Kinderloop
Cot and bed linen for rest time
Safe and secure centres with keypad access
Hats and sunscreen for play time
What to bring
Formula
Spare change of clothing
Water bottle
WHAT OUR FAMILIES
HAVE TO SAY
I have given this place a 5 star due to my daughter progressing in all areas since being there. The educators are very attentive and talk to me about my daughters day to let me know how she is going and what she has done during the day. If I have had any problems they have been taken care of straight away and I have not had to repeat myself. It's a very loving and caring place and I can't wait for my daughter to be going back in 2020. So thanks Ready 2 Learn Marsden Park. You have done an amazing job with my daughter.

Ready 2 Learn Marsden Park is a fantastic centre with dedicated and caring educators. It is apparent from the moment you enter that the children are well cared for and encouraged to learn through play and form their own opinions and friendships.Our daughter has thrived in the short time frame since she joined the centre in January.Would definitely recommend Ready 2 Learn!

A beautiful centre and addition for Ready 2 Learn - it is apparent that the centre has been uniquely designed for children and each specific age - group. The dedicated Educators are very passionate and have worked hard to establish this new centre to provide a friendly and welcoming feel for all.

Book a tour
Explore our state-of-the-art facilities in-person, meet the local educators and learn more about how our programs will benefit your child.