Kellyville Childcare Centre, Alessandra Dr
At Young Academics Kellyville Childcare Centre, we are dedicated to providing exceptional childcare and early learning services in Kellyville and the surrounding areas. Our centre offers a warm and welcoming environment where children can explore, learn, and grow.
Located in a friendly residential area, our Kellyville Early Learning Centre offers a professional yet nurturing environment for children from six weeks to six years old, and their families. 
Our Kellyville childcare centre joins our other centres in the area including our North Kellyville childcare centre opening soon and our Kellyville Redden Drive daycare centre. 
Offering a range of spacious, stimulating learning environments for children to explore, Young Academics Kellyville provides plenty of opportunity for both independent learning and group experiences both indoors and outdoors. 
The indoor learning environment includes resources designed to develop children's love of learning in areas ranging from numeracy and STEM (science, technology, engineering and mathematics) to literacy and creativity, while three generous outdoor learning zones – with a separate environment for infants (0-2 years) – provide plenty of space for discovery and experiential play, including a sandpit and leafy garden beds for children to connect with nature. 
Our sector leading educators focus on each individual child's unique needs and interests to design organised learning experiences focused not just on their learning but on their wellbeing and life skills, such as resilience and teamwork. 
Children up to age three participate in our signatured Evolution Program, while those between three and five enjoy our tailored Transition to School Program.
Children share mealtimes with their peers and enjoy five healthy meals and snacks each day, prepared on-site by our in-house cook. 
All nappies and wipes are included. Cot linen provided (excludes stretcher bed linen). 
Comprehensive Early Learning Programs
Our Kellyville childcare centre offers comprehensive early learning programs that are designed to meet the unique needs of each child. We believe in the power of play-based learning and create opportunities for children to engage in creative and interactive activities. Our experienced educators follow the Early Years Learning Framework to ensure that your child receives the best possible education in their early years.
Experienced and Dedicated Early Childcare Educators
Our team of educators at Young Academics Kellyville Childcare Centre are passionate about working with children. They are highly experienced and undergo continuous professional development to stay updated with the latest trends in early childhood education. With their caring and supportive approach, your child will feel safe and nurtured throughout their time at our centre.
The safety and well-being of your child are paramount to us. Our Kellyville childcare centre is equipped with secure facilities and child-friendly spaces to create a safe environment for play and exploration. We maintain strict hygiene standards to ensure a healthy atmosphere for your child's growth and development.
Young Academics Kellyville Childcare Centre is conveniently located in Kellyville, North-West Sydney, making it easily accessible for families in the area.
Strong Partnership with Parents
We believe that parents play a crucial role in their child's development. At Young Academics Kellyville Childcare Centre, we maintain open communication with parents and encourage their active involvement in their child's learning journey. Together, we create a supportive and collaborative environment that nurtures every child's growth.
Enrol Your Child Today at Our Kellyville Childcare Centre
Enrol your child at Young Academics Kellyville Childcare Centre and provide them with a positive and enriching early learning experience. Join our caring community and give your child the best start in their educational and developmental journey.
Helpful information
What we provide
5 nutritious meals prepared fresh daily by our on-site cook
Personal care resources like nappies, bibs and wipes
Ongoing parent/educator correspondence via our parent app
Cot linen provided (excludes stretcher bed linen)
Safe and secure centres with keypad access
Hats and sunscreen for play time
What to bring
Formula
Spare change of clothing
Water bottle
WHAT OUR FAMILIES
HAVE TO SAY
Book a tour
Explore our state-of-the-art facilities in-person, meet the local educators and learn more about how our programs will benefit your child.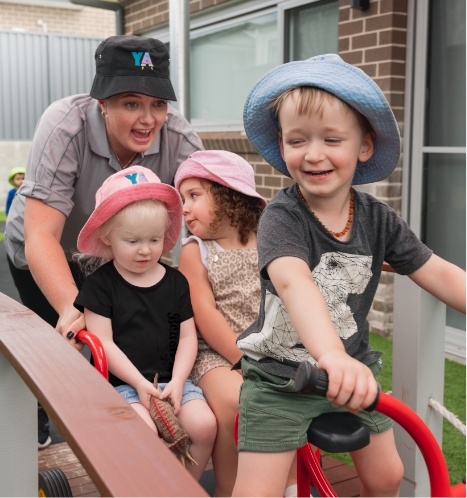 Opening of this proposed childcare service is subject to regulatory approval and expressions of interest may not be processed if regulatory approval is not obtained.