Penrith, Coreen Ave
We are excited to announce our second childcare centre in Penrith.
If you've looking for top-quality childcare in Penrith Coreen Ave? Look no further! At our Penrith Coreen Ave Childcare Centre, we are dedicated to providing a nurturing and stimulating environment for your child's early learning journey. Our comprehensive early learning programs are designed to cater to the unique needs of each child, ensuring a solid foundation for their cognitive, emotional, and physical development.
This Penrith childcare centre joins the ranks alongside our childcare centre in Glenmore as well as our early learning centre in Cranebrook.
Situated on Coreen Avenue across from the leafy Parker Street Reserve, this centre will cater for children from 6 weeks to 6 years.
Our team of dedicated educators take the children through a balanced program of planned learning experiences with time for them to engage their imagination and enjoy open-ended play, both independently and with their peers.
Our signature Evolution Program has been designed for children up to age three, while we prepare those between three and five for primary school with the Transition to School Program.
Children enjoy a menu of five delicious, healthy meals and snacks every day, prepared by our very own in-house cook. All nappies and wipes are included. Cot linen provided (excludes stretcher bed linen).
Comprehensive Early Learning Programs
Our childcare centre in Penrith Coreen Ave offers a range of comprehensive early learning programs that prioritise play-based learning. We believe that children learn best through play, and our programs are designed to encourage creativity, curiosity, and social interaction. Our educators follow the Early Years Learning Framework (EYLF), ensuring that your child receives the best possible early education.
Our Penrith Coreen Ave childcare centre is strategically located in the Greater Western Sydney area, making it easily accessible to families in Penrith and the surrounding areas. 
Experienced and Caring Early Childhood Educators
Our team of educators at Penrith Coreen Ave Childcare Centre are highly experienced and passionate about early childhood education. They undergo continuous training and professional development to stay up-to-date with the latest practices in early learning. You can rest assured that your child is in the hands of caring and dedicated educators.
The safety and well-being of your child are our top priorities. Our Penrith Coreen Ave daycare centre is equipped with secure facilities and child-friendly spaces to ensure a safe environment for all children. We maintain high standards of cleanliness and hygiene to protect your child's health. Our nurturing atmosphere helps children feel comfortable and happy, fostering a positive learning experience.
Engaging Curriculum with Enriching Activities
Our curriculum is designed to engage children in meaningful learning experiences. From arts and crafts to music, movement, and outdoor play, we offer diverse enriching activities that stimulate your child's imagination and creativity. Our goal is to make learning enjoyable, fostering a love for knowledge that lasts a lifetime.
Give your child the best start in their early education by enrolling them at our Penrith Coreen Ave Childcare Centre. Join our caring and supportive community to witness your child's growth and development in a nurturing environment. Contact us now to secure your child's place and embark on an exciting early learning journey together.
Samantha Curmi
Center Manager
Samantha is an experienced and passionate early childhood educator with an impressive 13+ years of experience. She is dedicated to providing high-quality education and care for young children and is committed to positively impacting the Penrith community daily.
"I have been working in Early Childhood for 13+ years, and it has been an incredible journey. Penrith is my community, and I have seen it evolve and grow over the years.
With experience managing centres previously, many families have described me as genuinely caring, kind, gentle, and always available to chat or listen, which is a testament to my dedication to the industry. I aim to continually bring love and a deep commitment to the centre and the children in my care.
I love working at Young Academics because of the family-oriented environment and supportive management. It also aligns with my motivation behind becoming an early education educator—passion for education and the belief that children play a crucial role in shaping the future.
Our centre is loved by its children, families, and educators because of our transparency and commitment to learning and growth. We involve everyone in decision-making and often pause to reflect on our practices.
I will continue to work hard at this and to continue creating a warm, safe, and supportive environment where children can thrive, and families feel confident in their child's care."
Fees
*fees may be subject to change prior to opening
Helpful information
What we provide
5 nutritious meals prepared fresh daily by our on-site cook
Personal care resources like nappies, bibs and wipes
Ongoing parent/educator correspondence via our parent app
Cot linen provided (excludes stretcher bed linen)
Safe and secure centres with keypad access
Hats and sunscreen for play time
What to bring
Formula
Spare change of clothing
Water bottle
Book a tour
Explore our state-of-the-art facilities in-person, meet the local educators and learn more about how our programs will benefit your child.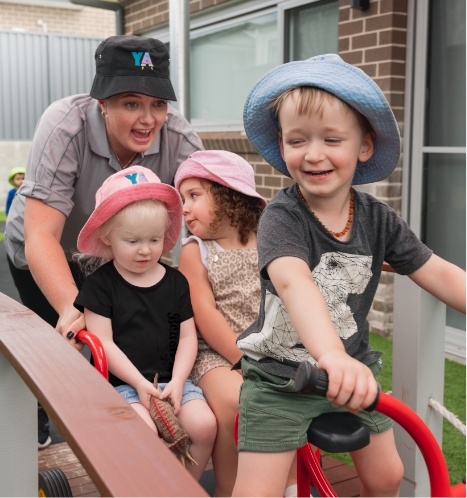 Opening of this proposed childcare service is subject to regulatory approval and expressions of interest may not be processed if regulatory approval is not obtained.