Hoxton Park Childcare Centre
Conveniently located just off the M7 in The Landmark complex, our rooftop Hoxton Park Early Learning Centre is home to magnificent indoor and outdoor learning environments and the latest resources to stimulate children from six weeks to six years old.
Our Hoxton Park childcare centre is a state-of-the-art facility that is encompassed by our South West Sydney childcare centres, we have a range of childcare centres in South West Sydney in addition to our Hoxton Park early learning centre like our Bossley Park Childcare and so many more!
The indoor learning environment includes four purpose-built spacious areas equipped with diverse learning zones to support children's cognitive development and creativity, as well as enhancing skills in numeracy, literacy, STEM (science, technology, engineering and mathematics) and the arts.   
In the outdoor learning environment, children will delight in imaginative play as well as a program of planned learning experiences designed to build their gross motor, coordination and cooperation skills as part of Young Academics' focus on holistic learning. 
Our team of experienced educators is committed to supporting every child in both their learning outcomes and emotional wellbeing and development. 
Children up to age three participate in our tailored Evolution Program, while those between three and five are prepared for primary school with the Transition to School Program. 
An on-site cook prepares five balanced, healthy meals and snacks each day for children to enjoy with their peers. 
All nappies and wipes are included. Cot linen provided (excludes stretcher bed linen). 
Why Choose Young Academics for Hoxton Park Childcare?
When it comes to your child's early development, Young Academics Hoxton Park is the ideal choice for families in South West Sydney. We pride ourselves on providing a safe, nurturing, and stimulating environment that fosters a love for learning and sets the foundation for a successful future.
At Young Academics, our team of dedicated educators are passionate about creating a positive impact on young minds. With their expertise, enthusiasm, and genuine care, they ensure that your child receives the attention and support they need to thrive.
Our Hoxton Park childcare centre offers a diverse range of engaging early learning programs designed to spark curiosity and promote holistic development. From interactive play-based learning to structured activities, each program is carefully crafted to suit the developmental needs of each child.
Child-Centric Approach:
We believe in the uniqueness of every child and embrace a child-centric approach in our curriculum. Our educators focus on identifying and nurturing each child's individual strengths, interests, and learning styles.
Your child's safety is our top priority. Our Hoxton Park childcare centre features secure facilities and age-appropriate play areas, ensuring a safe and enriching experience for your little one.
Convenient Childcare Location for South West Sydney Families:
Located in Hoxton Park, our childcare centre is easily accessible to families in South West Sydney. Our convenient location makes drop-offs and pick-ups hassle-free for busy parents.
Building Lifelong Learners:
We recognise that early childhood is a critical time for brain development and future success. Our programs aim to build confident and curious lifelong learners, equipping children with the tools they need to thrive in their educational journey.
Choose Young Academics Hoxton Park for a nurturing and stimulating early learning experience that will lay the groundwork for a bright future.
Chantelle Pirihi
Center Manager
Chantelle is an experienced early childhood educator who has been in the sector for over 20 years. She shares a passion for working with children and watching them grow and develop. Chantelle acknowledges the importance of creating a positive and supportive environment for children, families, and educators and provides daily to Smeaton Grange.
"I have been working in the early childhood sector for 20 years now and am proud to be part of the Smeaton Grange community. What I love most about here is that it constantly reminds me of life lessons, such as enjoying life's simple pleasures, taking risks, and more.
Working at Young Academics has allowed me to grow within the company, and my fellow colleagues are people I can rely on for support and guidance, which is crucial in the industry—after all, it takes a village!
Seeing children grow and achieve milestones like writing their names or completing a tricky puzzle keeps me motivated, and I aim to continue providing quality care.
In my centre, I believe in positive interactions and work hard to create an environment where children, families, and educators feel comfortable being themselves. Our centre encourages growth, creativity, adventure, and involvement in a non-judgmental atmosphere."
Fees
*fees may be subject to change prior to opening
Helpful information
What we provide
5 nutritious meals prepared fresh daily by our on-site cook
Personal care resources like nappies, bibs and wipes
Ongoing parent/educator correspondence via our parent app
Cot linen provided (excludes stretcher bed linen)
Safe and secure centres with keypad access
Hats and sunscreen for play time
What to bring
Formula
Spare change of clothing
Water bottle
WHAT OUR FAMILIES
HAVE TO SAY
Book a tour
Explore our state-of-the-art facilities in-person, meet the local educators and learn more about how our programs will benefit your child.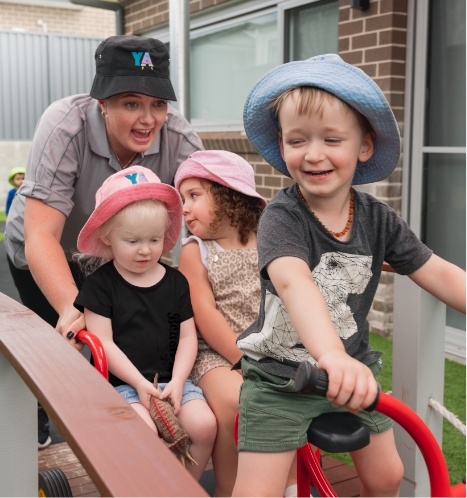 Opening of this proposed childcare service is subject to regulatory approval and expressions of interest may not be processed if regulatory approval is not obtained.