7 KEY AREAS OF FOCUS
At Young Academics, we are committed to providing your child with the best possible start to their future education and fostering a lifelong love of learning. Our Transition to School Program focuses on seven key areas which promote the holistic learning and development required as children prepare for kindergarten and is supported by our well-resourced environments and sector leading educators.
1
Core
focuses on supporting children to develop resilience and positively adapt to the changes as they experience in their early years.
2
Scholar
supports the development of foundational literacy and numeracy skills through meaningful experiences.
3
Creative
provides endless opportunities for children to express themselves and showcase their imagination through creative arts.
4
Wellness
teaches children how to look after their bodies and minds through practices such as good hygiene, healthy eating and keeping active.
5
Wellbeing
promotes children's holistic health and wellbeing by exploring identities and social concepts such as fairness, empathy, and compassion.
6
Our World
encourages children to become active participants in both their local and global communities with a focus on cultures, diversity, the environment and sustainability.
7
Discovery
nurtures natural curiosities through play-based science, technology, engineering, and mathematics (STEM) experiences.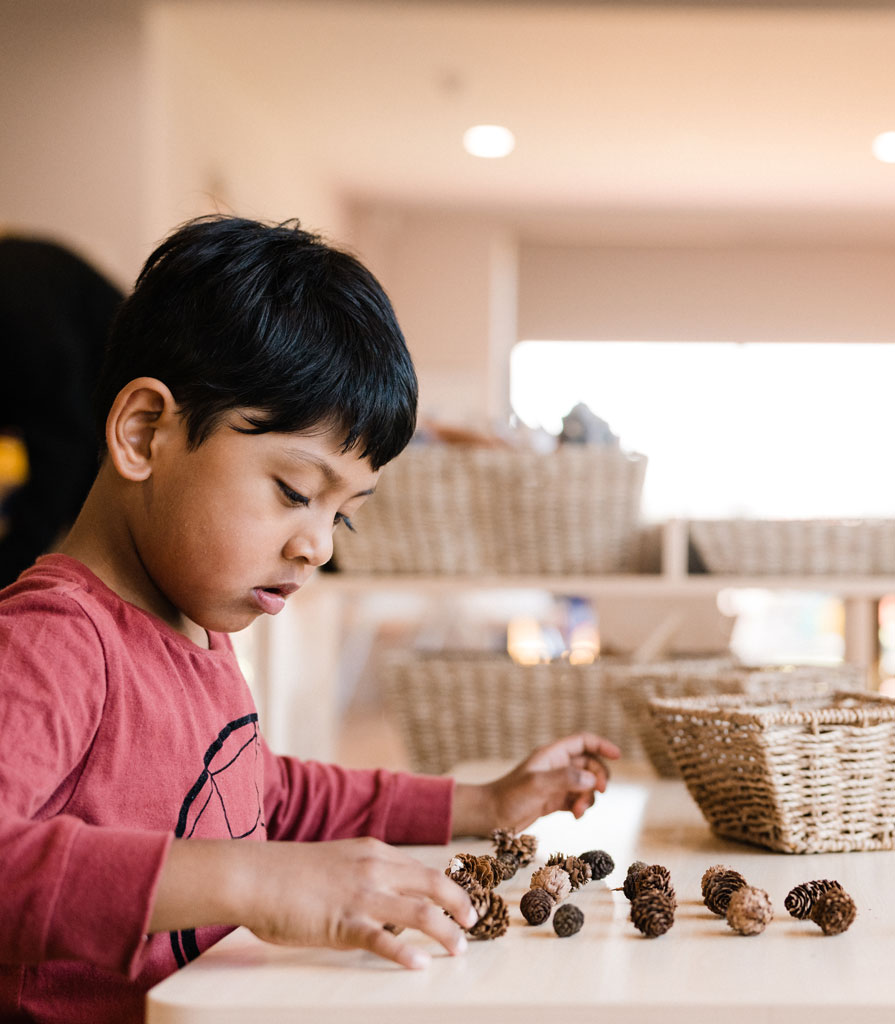 3-5 YEARS
PRESCHOOLERS
As your child is getting ready to start 'big school', our Transition to School Program recognises the importance of the formative preschool years in terms of building their emotional, cognitive and physical development.
Some examples of how our Transition to School Program supports your child's learning and development include:
Natural Environments
– Our centres allow children to learn through exploration with access to outdoor learning environments with features such as bike tracks, sandpits, and quiet zones for yoga, stimulating their curiosity with bold colours, interactive equipment, and more.
Nutrition
Created by a dietician and implemented by an in-house cook, our approach to Nutrition promotes health and nourishment through every meal. With a healthy mind and body, children can concentrate and learn, helping them make healthier decisions when they transition into school and beyond.
Getting Ready for School
Our program implements a play based learning approach, with every activity ensuring your child is ready for real-life situations. Vital to preschoolers, we ensure your child is well supported to learn at their own pace, giving them the confidence to take on kindergarten.
PLAY-BASED LEARNING
Our Transition to School Program is underpinned by play-based learning. Play-based learning is how children under the age of five learn while having fun at the same time, and this program promotes a combination of outcomes and skills that will set your child up for a successful transition to their new school setting.
With an equal focus on fostering physical, cognitive and emotional development, children are guided by our expert educators through play to give them an understanding of the skills required for school readiness.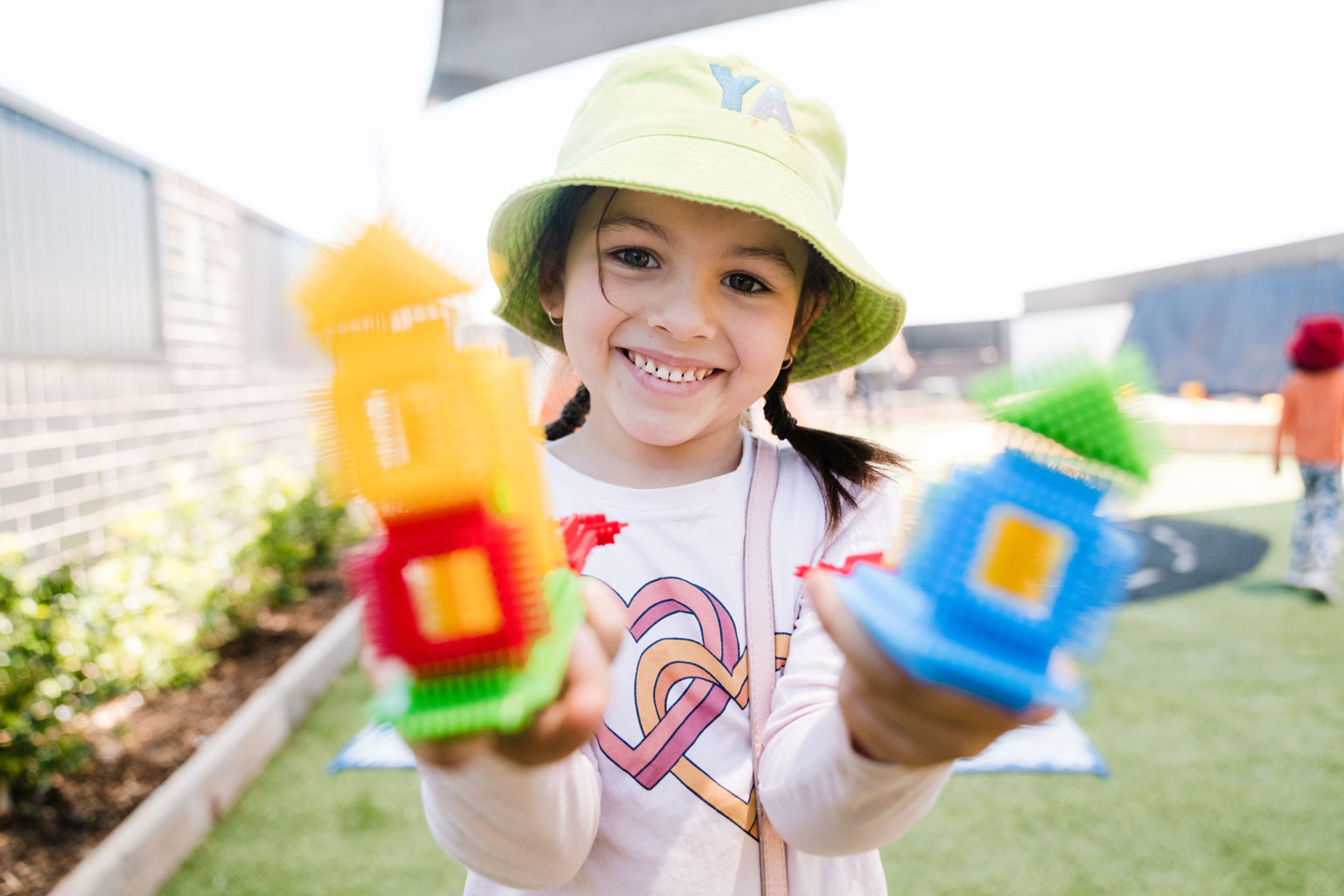 HOW THE PROGRAM IS IMPLEMENTED
At Young Academics we understand the importance of the formative preschool years in preparing children for school readiness, and our program will help them prepare emotionally, cognitively and physically for this significant transition. These are some examples of how our Transition to School Program is implemented for preschoolers:
Core
Scholar
Creative
Wellness
Wellbeing
Our World
Discovery
1

Core

Independence and confidence are two important skills we aim to build in children to ensure they are school ready. This is achieved in centres by allowing preschoolers leadership opportunities such as 'buddying' with younger children and encouraging autonomy in personal care tasks like tying their own shoelaces.
2

Scholar

This is where we cover the foundational literacy and numeracy skills and concepts required for your child's first year of school. Verbal and written literacy is achieved by children reading, writing, practicing sounds and telling stories. Numeracy covers not only numbers, but also patterns, shapes, size, time, and measurement, and how these key concepts relate to their everyday lives.
3

Creative

The creative arts, which includes drawing, painting, crafting, building and music give young children an outlet for self-expression and a way to communicate emotions they may not yet be able to verbalise. This is achieved through activities such as collaging, clay or play dough, dancing and singing.
4

Wellness

A big focus of this key area is on the physical development of children, which includes fine and gross motor skills. We assist preschoolers to develop more complex fine motor control by encouraging play with a range of tools (such as pencils, scissors, brushes) to support emergent writing. Gross motor skills are developed through more complex movements and sporting actions such as skipping and ball play.
5

Wellbeing

Promoting a child's holistic health and wellbeing by learning about emotions and friendships is vital in these foundational years. We teach children to identify and recognise emotions in themselves and others. Emotions such as empathy assist children in developing the social skills required to make and sustain friendships which is key to successful school transition.
6

Our World

Our World helps children to understand the world around them and their place in it. Key subjects explored include an appreciation of different cultures, including Australia's own indigenous cultures, as well as the environment and our relationship with it. Children interact with the natural world in our purpose-built outdoor learning environments that feature spaces such as herb gardens and worm farms.
7

Discovery

Focusing on the important subjects of science, technology, engineering, and mathematics (STEM), children learn through fun play-based activities and collaborating with their peers and educators. Science experiments such as making volcanoes are explored in a fun and safe environment and technology is introduced through age-appropriate online resources and videos.
ASSESSMENT OF LEARNING
As outlined in the National Quality Framework and the Early Years Learning Framework, regular assessments are essential when it comes to your child's overall development. At Young Academics, we fulfil these requirements by setting goals within our Transition to School Program that are tailored to each individual child and developed in conjunction with families.
Each month, our expert educators plan specific learning experiences to help your child reach these goals that will align with key milestones within the Transition to School Program. Parents are kept up to date on their child's progress through regular updates via our Family communication platform Kinderloop and information evenings where they can speak one-on-one with their child's educators. Every six months, our educators assess your child's progress and provide feedback in a formal developmental summary against their individual goals.
FAQ
What is Play based learning?
Play-based learning is a nationally recognised approach based on child-led and open-ended play. Play-based learning allows children to learn through exploration, developing and practicing language and physical skills and experimenting with new ideas. Children build confidence, express themselves creatively, and develop their sense of self and identity.
What is the Early Years Learning Framework (EYLF)?
The Early Years Learning Framework is part of the Australian National Quality Framework for early childhood education and care, and describes the principles, practices and outcomes essential to your child's learning from birth to five years of age, as well as their transition to school.
The framework has a strong emphasis on play-based learning, recognising the importance of communication and language (including early literacy and numeracy) and social and emotional development. There are five learning outcomes defined by the EYLF:
Children have a strong sense of identity
 Children are connected with and contribute to their world
Children have a strong sense of wellbeing
Children are confident and involved learners
Children are effective communicators
What is the National Quality Framework (NQF)?
The National Quality Standards is part of the National Quality Framework which provides for increased quality in education and care services. The Standards focus on seven quality areas that underpin quality and provide for better outcomes for children.
There are:
Educational program and practice
Children's health and safety
Physical environment
Staffing and arrangements
Relationships with children
Collaborative partnerships with families and communities
Governance and leadership
How do you monitor my child's development?
At the start of the year, our educators work in partnership with families to set goals for your child. Then, each month we plan different learning experiences to help your child reach these goals that will align with their developmental milestones. Families are kept up to date on their child's progress through regular updates on Kinderloop, our family communication platform, and annual parent/teacher evenings allowing you to speak one-on-one with your child's educator and a formal developmental summary of milestones and engagement.
How does the Transition to School Program prepare my child for school?
Our Transition to School program is designed to support children to develop foundational skills, providing a fluid transition into Early Stage One of the NSW School Curriculum.
How are families involved in their children's learning?
Young Academics believes in inviting families to be partners in their child's learning through enriching communication and providing experiences to extend learning at home.
The Staff are so friendly, caring and take the time to inform you of things about the children. Took me so long to find a place we loved! YA is the best everyone there is amazing!
Thank you for your care and support for our kids. They happily run off to care everyday and love to tell us all the fun that they have had during the day.
Thank you for everything you do for the children. I would like to give a big hug to all the lovely educators!
Thank you for teaching, loving & caring for my children. We appreciate all the love, kindness and help you give to our babies.
We can't thank you enough for all the hard work you do, and it's so appreciated.
When walking into the centre my children are always greeted with love and I am always made to feel welcome.
Thank you, Miss Carmen, for the amazing job you do in the kitchen preparing our kids meals! It's such a challenge cooking for little ones. Jackson is beginning to eat much better now & could not stop talking about the yummy couscous & chicken dish he ate yesterday! 
My son has a few medical conditions so sending him to preschool was a huge step for us and a nervous one at that, but they have made it an easy step and made us feel like family. They have done everything to make it easier for my son to fit in and I can't thank them enough. I highly recommend them and I have gained a new family since starting with them.
My 22-month-old son attends the Penrith centre and we cannot believe the progress and changes we have seen in him already. He is saying more words, is happier and is eating and sleeping better. He warmed to the lovely teachers there very quickly and we are so impressed with the daily communication we get about his days and development. Thank you for making the experience so positive!
Thank you amazing team at Rouse Hill. There is so much positivity when you enter the centre and  I can't thank Atarah's teachers enough for doing a fantastic job. Since she joined, the transformation has been beyond phenomenal! Atarah is thriving, and I know the team at young academics will help her to grow and be her best this coming year and prepare her well for school.
I just want to thank you and your fabulous staff for being what Harvey calls 'his other Mummies'. The staff and the centre is second to none and I can't recommend you enough to family and friends… It's truly the best Daycare I've ever stepped foot in and I've seen a few! Harvey will be very sad to say goodbye. 
Leaving my son at Young Academics means I never have to worry about whether or not my son is happy and well cared for. Every single team member is friendly, positive and energetic, they genuinely love their jobs. The team always have my son's best interests at heart, and their support is unwavering. I cannot recommend them highly enough.
My husband and I needed full time day care for our son and started him at Young Academics when he was 8 months old. From the first time we walked through the Smeaton Grange complex to his orientation day, we were met with friendly faces and answers to all of our questions. We were extremely impressed with the level of care they provided. It gives us such amazing peace of mind, to know that our son is in an environment where he is comfortable, safe and enjoying his day. I cannot recommend Young Academics Smeaton Grange highly enough. They are true professionals and have my son's best interest at heart.
The centre director and all the staff are friendly/welcoming and supportive of each other creating a positive culture and atmosphere. This is very important to me having a centre which is warm and inviting. They always greet me and have time to chat. Staff in the baby room are very nurturing and maternal.  I'm very happy I chose YA, the centre is always a clean and calm environment. I feel reassured leaving my baby in their care, I know her teachers understand her and her needs.
I am so impressed by the centre here in Elderslie. The communication, professionalism and down to earth approach from the ladies here in this centre is such a breath of fresh air. The general atmosphere is really calming and relaxing which is great for all the children & parents. It's great to know we have such a quality standard of care in a child centre here in the area.
The team at YA provide a caring and nurturing environment not only for the children attending but for the child's entire family.We have been able to put our trust in the team to be sensitive to the needs of our child and provide the very best in care, positive health and nutrition education and an engaging curriculum. As a full time mum working, I know my son is safe , happy and having a great time each and everyday that he attends the centre. Thank you Ladies for each and every day, we love it there!  
Both of my children have been going to Young Academics – Smeaton Grange for a few months now. Having moved interstate, it was a daunting experience for my girls to change centres again. All of the educators at Young Academics have been so nurturing and caring towards my children, helping them to settle into their new life here in Sydney. The centre is always beautifully presented and my children always tell me at the end of each day how much fun they have had. Thank you Young Academics for making me feel at ease when leaving my girls in your care!
Young Academics Smeaton Grange has provided my son with an avenue to thrive in his development whilst enhancing his social skills. I have always been a sceptic about day care but this centre has completely changed my view. The staff are all very accomodating and friendly and continue to make myself, my husband and my son feel very welcome. It's nice to know that he is loved and well cared for when I'm at work. A wonderful team with an enthusiasm for young child development. They should all be commended.
As a first time parent seeking Childcare it was important that the centre that we chose would ensure that my children were safe and their social and emotional wellbeing were at the forefront of everything they did. My experiences with the centre have been beyond what I ever expected. The centre is always clean and orderly and the children's work is proudly displayed. The staff are amazing, educators are warm, professional and genuinely love the children. The management at all levels has been supportive and attentive of my needs as a parent. 
When walking into the centre my children are always greeted with love and I am always made to feel welcome.
When my children come home I can see they have had a great day and learnt so much through their singing of new songs, repeating the alphabet and learning to count.
I've been with them just over a year now and I've had no issues since day one. I want to commend the staff on the level of excellence we receive especially dealing with the manager Ivana, she has been the most understanding, helpful and just an easy person to do business with. I now live half hour away from the school and I wouldn't change  centre because I trust Toongabbie with my kids. My kids love it, I love it and I appreciate everything they've done for my kids and I. I would recommend them to anyone and everyone. Thank you for all your service
Young Academics Toongabbie is a second home for kids! Ms Ivana and the girls are so friendly, caring and will answer all my calls with patience, over all they are doing fantastic job. We are very content with their services and fortunate to have this day care and the lovely team. Me and my husband rank Young Academics Toongabbie 10+ out of 10. All we can say is Young Academics Toongabbie is the best.
Every morning without fail the teachers are very welcoming and make me feel at ease dropping off my daughter. I have never felt happier at any preschool the way I feel at Young Academics Merrylands. The staff are so well behaved and spoken so I know that my daughter is receiving the best attention and education before entering Kindergarten! In the afternoon when I pick Jacinta up from the centre the same staff are still happy and welcoming, and there is no better feeling as a parent to see that.
Being a brand new center was one of the reasons I first enrolled our daughter into Young Academics. After meeting the friendly staff, I had no reason but to believe that she would be well looked after. Although she only attended a couple of days a week, she had fun learning, loved the staff and became school ready. This gave us no hesitation in enrolling our son, who too is enjoying his time more and more each day.
I was quite apprehensive to change from family day care to a centre-based day care, but the staff at YA Elderslie have put all my concerns to rest. My 17 month old son has the best time there and the staff genuinely care for the children. Photos I receive on the OWNA app just make my day. It's obvious that the staff really interact with the children. I am so happy and comfortable to leave my son with these amazing people
The staff and facilities at YA have exceeded our expectations. The staff greet us each morning with a big smile! The meals are nutritious and the menu is diverse and I find our children eating foods they wouldn't normally consider trying at home. I've seen a positive change in our children and their confidence has grown, they look forward to attending each day. As a working parent, you want to know they are happy and well cared for and we feel fortunate to have found a centre that is able to meet our families needs.
From the moment I walked into Young Academics Elderslie I knew we were meant to be here. I have 3 children attending and the quality of care we receive from each educator exceeds any place we have been to. Nothing is too much trouble for the centre manager, and everyone above has been amazing. My children enjoy the tasty and healthy menu, the large variety of arts and crafts, the learning experiences offered and the very exciting and engaging outdoors. Thank you YA Elderslie you have been a wonderful asset to my children's learning. 
STAY CONNECTED WITH YOUR CHILD
Our Parent App is a safe, secure and private way for you to stay in touch with Young Academics while your child is in our care. We use our parent app to share news, events, photos and videos about your child – all in real-time. We also share insights and updates into your child's progress and developmental milestones. Through the parent app, you can ask questions or comment on your child's learning, creating a meaningful relationship with our educators.
Programs at
young academics
Young Academics promises stimulating, quality instruction and
child care programs which spark curiosity in your child.
0-3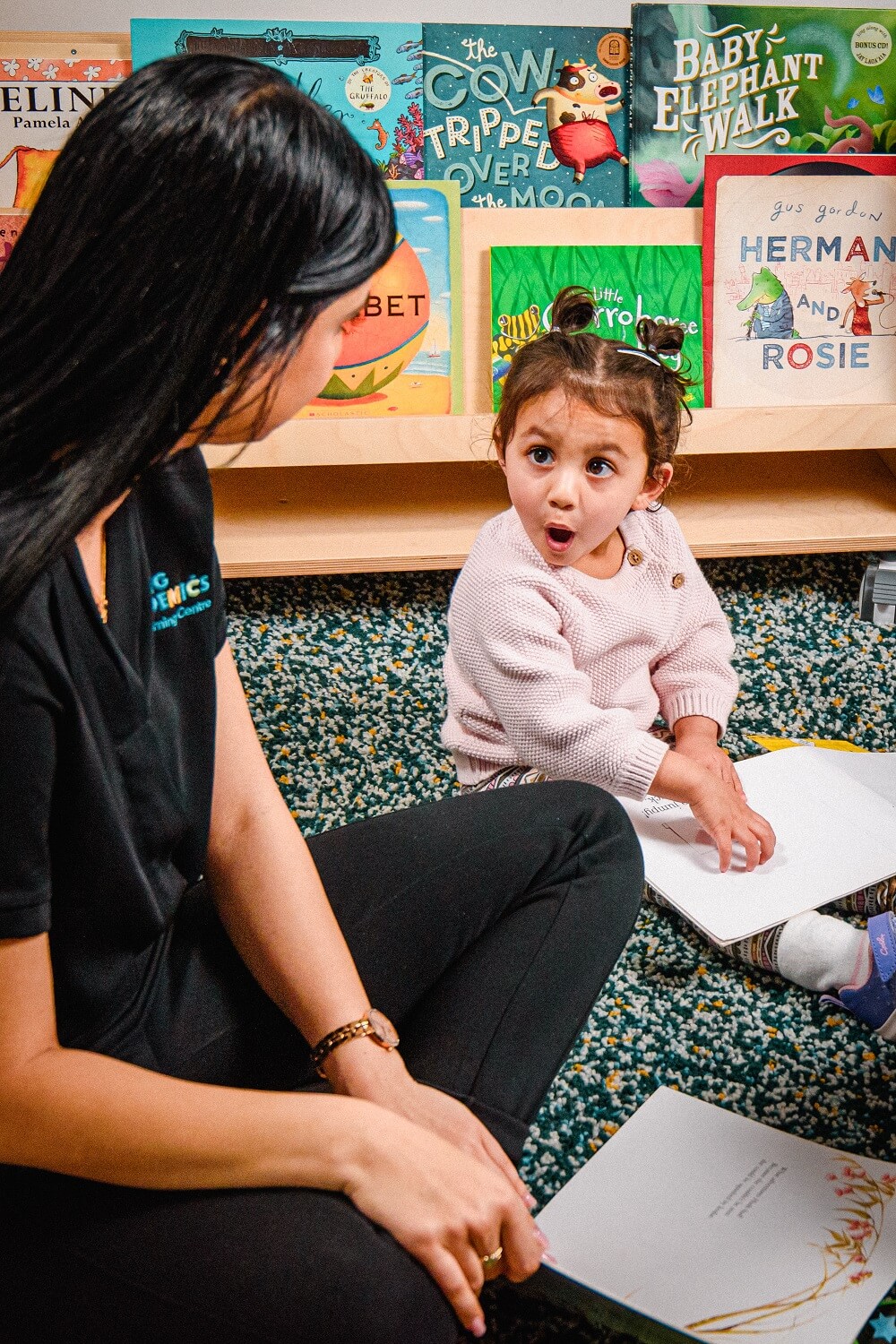 Evolution Program
Our signature approach to early learning education programs promotes the development of learning dispositions such as wonder, curiosity and imagination.
0-3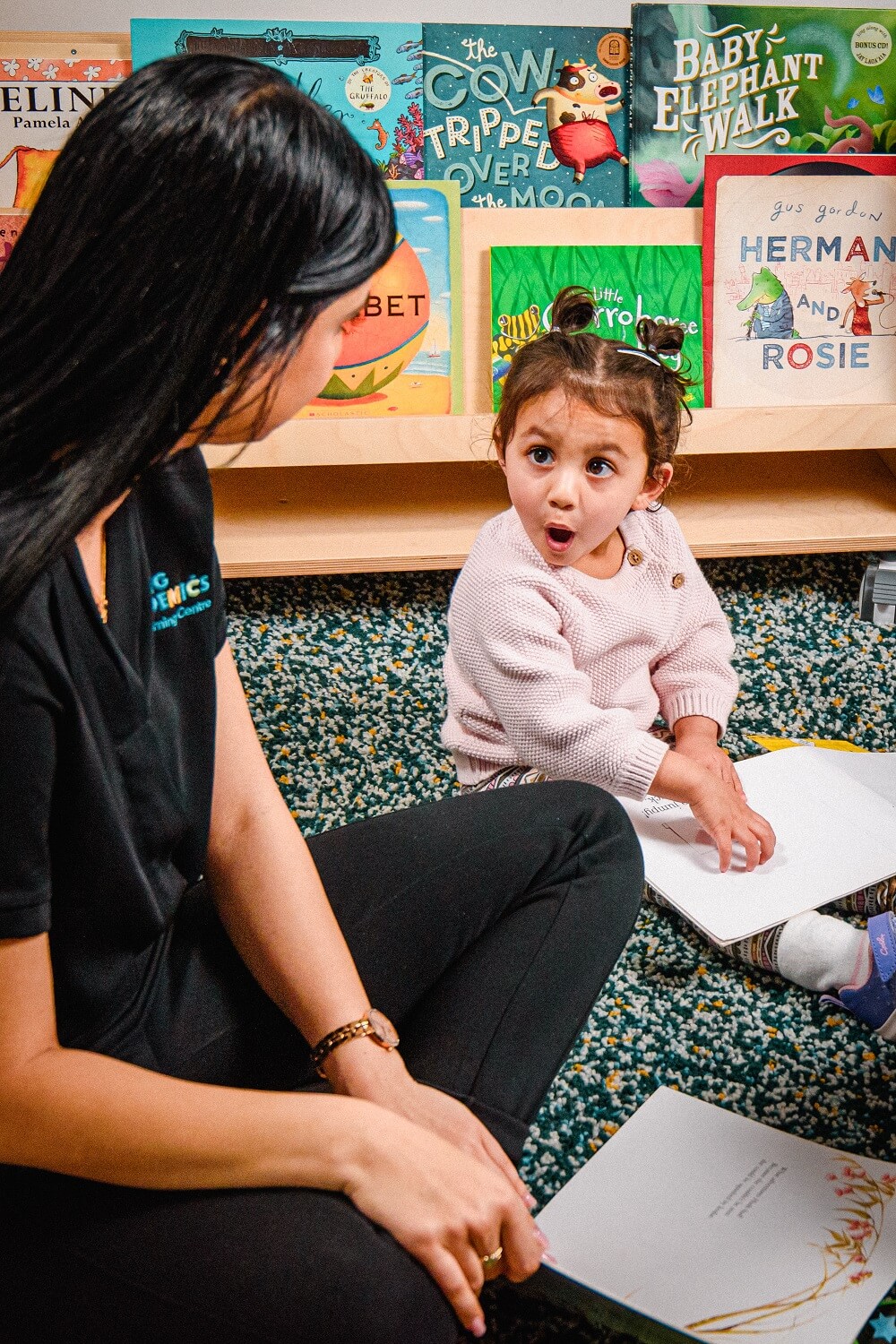 Evolution Program
Our signature approach to early learning education programs promotes the development of learning dispositions such as wonder, curiosity and imagination.