How we are making a difference
We understand it is up to us to make a change. We act in ways to create a more sustainable and better shared future through Environmental Sustainability, Ethical Practice, and Partnering with Families and the Community.
Environmental Sustainability

Partnering with Families and the Community
Environmental Sustainability
Environmental Sustainability
At Young Academics, sustainability and the environment are key considerations in our everyday operations. We strive to implement sustainable practices across all areas of our business and in each centre. Our centres all include compost bins, run paper free days, and use recycled materials as much as possible.
Our team of educators and employees share our environmentally conscious mindset and make decisions where possible to reduce their impact on the natural world. They strive to carefully select ethically produced resources and are mindful of sustainable packaging and delivery when ordering and purchasing resources and equipment.
Our shared vision for creating a sustainable future is also reflected in our educational curriculum, with our educators incorporating key environmental and sustainability messaging into our signature early learning programs and practices. We teach children to take care of their environment and become active global citizens as they develop an understanding of how even the smallest of actions make a difference.
Ethical Practice
Young Academics is committed to upholding human rights conventions in line with Australian legislation relating to the workplace and children. Our educational curriculum, through our Evolution Program and Transition to School Program, aligns strongly with the United Nations Convention on the Rights of the Child by ensuring that children's rights are supported through and central to our program delivery.
Families can confidently enrol their children in any of the Young Academics' centres knowing that we comply with all regulatory and legislative requirements related to the rights of our children and employees, while maintaining the highest level of professionalism and ethical practice.
Young Academics provides equal employment opportunities and is proud of our diverse and skilled team of educators and employees who bring with them a wealth of knowledge, experience and skills and are committed to further driving our corporate social responsibility.
The Early Childhood Australia Code of Ethics guides and informs our practices as early childhood sector professionals, with our children's best interests always at the forefront of our decision making and actions. This aligns with our overall commitment to providing the highest quality education and care, which in turn promotes a positive start to each child's lifelong learning journey.
Partnering with Families and the Community
Partnering with Families and the Community
At Young Academics, the families and community of our centre are at the forefront of our minds. We strive to give back to the community and be involved in the community as much as possible.
We do this by inviting local members such as police officers and firefighters into the centre to meet with the children and teach safety, install community libraries, with resources supplied by local businesses, donate items to local charities and drives and so much more.
Our team of educators strive to involve the community and the families by inviting families and community members into the centre and supporting small business where possible.
The National Quality Framework recognises that relationships with families are fundamental to achieving quality outcomes for children and that community partnerships are based on active communication, consultation and collaboration.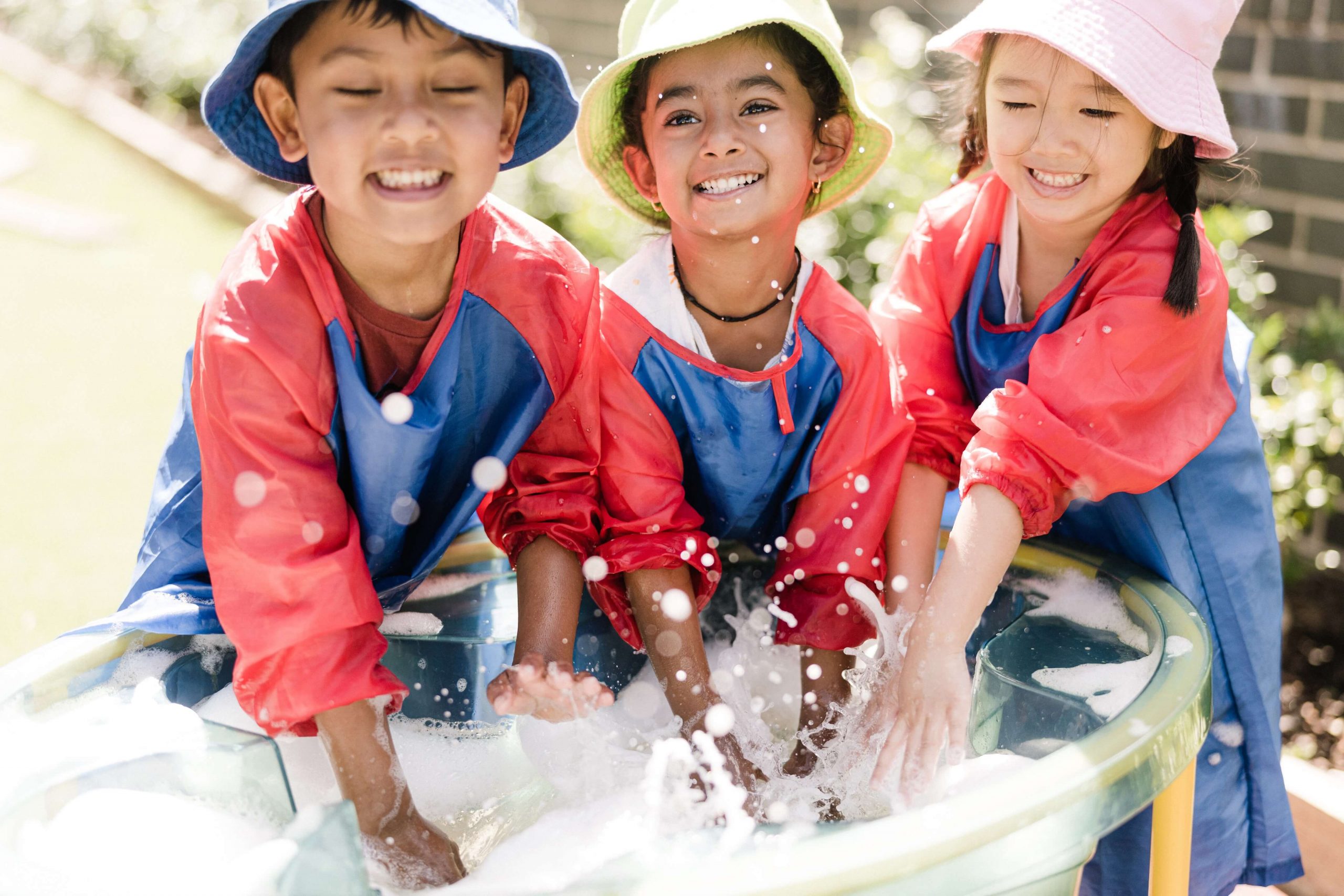 Wellbeing
At Young Academics, the wellbeing of our employees is our top priority. We aim to provide and promote a positive work environment for all educators and staff. Our respected senior leadership team is adaptive and responsive, regularly taking feedback from what we consider our most valued resource – our employees.
We prioritise the wellbeing of our team through supporting national initiatives such as promoting the Australian Children's Education & Care Quality Authority (ACECQA) sector-wide seven Educator Wellbeing Statements, RUOK Day, and many more.
We organise and facilitate regular team bonding days and challenges to promote team-building and positive relationships throughout our wider network of employees across our individual services and head office.
Professional collaboration is embedded in our company's culture, seeing our teams consistently working collaboratively together, both within and across centres and departments, all while maintaining a mutual respect.
In addition to this, Young Academics has a comprehensive rewards and recognition program where employees are awarded 'hero dollars' when they display one of our company's four Core Values. These 'hero dollars' can then be used to go towards wellbeing items such a gym memberships, nutrition programs, or any other relevant goods and services.
Nutrition program
At Young Academics, we are focused on the holistic growth and development of each child, with health and nutrition a top priority for us.
Each of our centres features an inclusive menu of five delicious and nutritious daily meals created by expert dietitian and founder of The Lifestyle Dietitian Michelle Theodosi and prepared by our in-house cooks. All meals present an opportunity for our children to learn about the importance of a well-balanced diet, guiding them towards lifelong healthy eating habits.
Learn more about Young Academics
We are the fastest growing childcare organisation in NSW, our growth is underpinned with a commitment to corporate responsibly, ethical practice and environmental suitability.