Pendle Hill Childcare Centre
Conveniently located in Pendle Hill, we are excited to announce one our newest Pendle Hill early learning centres in Sydney's west. Open all year round, our Pendle Hill daycare centre provides long daycare for children between the ages of 6 weeks to 6 years.
Reflecting the family-orientated nature of the region, this state-of-the-art centre will be built on the love of children's learning. The indoor spaces flow into the outdoor area making learning seamless, safe and stimulating. 
Each of our Pendle Hill early learning spaces allows children to explore, discover and learn in both individual and group settings. The outdoor area at our Pendle Hill childcare centre is equipped with resources such as a sandpit and garden, allowing children to explore within a natural environment. 
Led by our passionate educators, our Evolution and Transition to School program consists of various forms of play, such as physical, dramatic, sensory, nature, music, art and age-appropriate play. Children can integrate different ways of learning by using real-life experiences in a new situation, which is essential for building life skills. 
In addition to our Pendle Hill childcare location, we also offer childcare services in Marsden Park and childcare centres in Toongabbie.
Why Choose Young Academics for Pendle Hill Childcare?
At Young Academics, we take immense pride in being the top choice for childcare services in Pendle Hill. Our dedication to providing the highest quality care and education sets us apart from your run-of-the-mill childcare centre.
A Nurturing and Stimulating Environment
We understand that every child deserves a nurturing and stimulating environment to thrive in their early childhood years. Our Pendle Hill childcare centre offers a safe and welcoming space where children from six weeks to six years old can explore, learn, and grow. Our educators foster a sense of belonging and create strong bonds with each child, ensuring they feel loved and cared for throughout their journey with us.
Holistic Early Learning Programs
At our Pendle Hill childcare location, we offer holistic early learning programs tailored to meet the unique needs of each child. From our Evolution Program, specially designed for infants up to three years old, to our Transition to School Program for three to five-year-olds, we are committed to nurturing your child's development across all areas – cognitive, social, emotional, and physical.
Experienced and Passionate Educators
Our team of experienced and passionate educators is the heart of our childcare centre in Pendle Hill. They are not only well-qualified but are also dedicated to creating a positive and enriching learning environment for every child. Through play-based learning and tailored educational experiences, our educators inspire curiosity, creativity, and a love for learning in your child!
Purpose-Built Facilities
Our Pendle Hill early learning centre boasts purpose-built facilities that provide a range of engaging indoor and outdoor spaces for your child to explore. Equipped with age-appropriate learning resources and play equipment, our centre offers an enriching experience that promotes self-discovery and confidence-building.
We are more than just a childcare centre; we offer a community environment where families, children, and educators come together to support each other. We encourage open communication with parents, ensuring that your values and aspirations for your child are integrated into their daily experiences at our centre.
Convenient Location
Located in the heart of Pendle Hill, our childcare centre is easily accessible to families in Sydney's Western Suburbs. Whether you're looking for a daycare, preschool, or childcare centre in Pendle Hill, our facility provides a safe and nurturing space for your child to thrive.
Join the Young Academics Family
Choosing Young Academics for your child's early learning journey means providing them with the best start in life. Our Pendle Hill childcare centre offers a warm and supportive environment, experienced educators, and exceptional early learning programs to set the foundation for a bright future. 
Schedule a tour or contact us to learn more about our Pendle Hill childcare services and become a part of our family today.
Kamal Kaur
Center Manager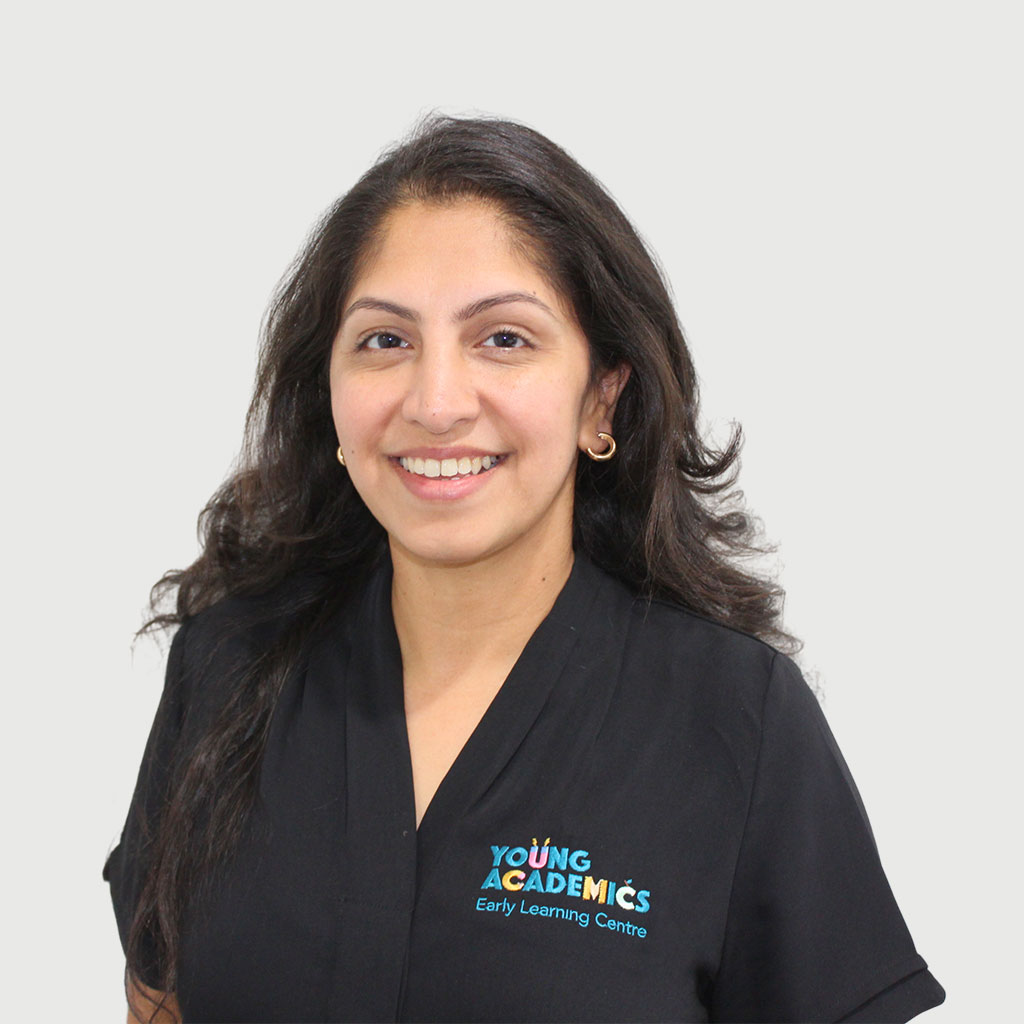 Kamal is an experienced educator passionate about providing premium care to the children in the Pendle Hill community. She has worked in the early childhood industry since 2019 and loves contributing to children's growth and learning through education. Kamal plays a positive role in shaping the lives of those in her care and strives to make her centre a place where children and families feel a sense of belonging.
"I am a dedicated early-childhood educator that has worked in the industry since 2019. As a strong advocate of children's rights and their voices in their lives, my job is pivotal in their development.
What I love most about working in the Pendle Hill community is my ability to reach out and help children grow and learn through education. I achieve this by providing a supportive, positive, and uplifting foundation in a child's life.
At Young Academics, I love that they recognise skills and allow for greater opportunities based on that. Also, the company's people make it a great workplace—they are willing to help and support one another. In addition to this, I respect the amount of thought put into the centre's infrastructure—state-of-the-art facilities that are open, fresh, and inviting for all.
My motivation to get into the Early Childhood sector was my children. The impact you can have on a child's entire life is tremendous, and I aim to play a positive role in the lives of children in my local community.
I am proud of my role and make it my responsibility to help shape the mini-humans in our care!
I hope to continue bringing a happy and welcoming vibe so that this centre is where children and families "want to be" and feel a sense of belonging."
Helpful information
What we provide
5 nutritious meals prepared fresh daily by our on-site cook
Personal care resources like nappies, bibs and wipes
Ongoing parent/educator correspondence via our parent app
Cot linen provided (excludes stretcher bed linen)
Safe and secure centres with keypad access
Hats and sunscreen for play time
What to bring
Formula
Spare change of clothing
Water bottle
WHAT OUR FAMILIES
HAVE TO SAY
Book a tour
Explore our state-of-the-art facilities in-person, meet the local educators and learn more about how our programs will benefit your child.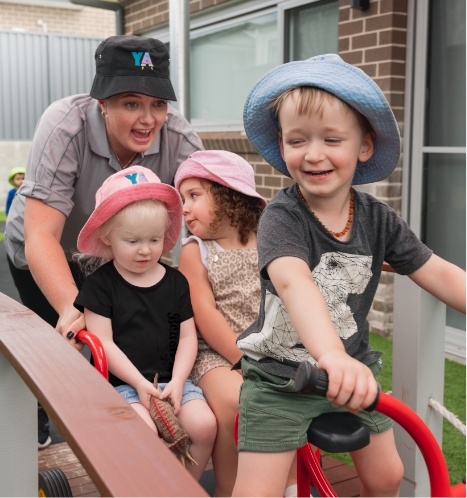 Opening of this proposed childcare service is subject to regulatory approval and expressions of interest may not be processed if regulatory approval is not obtained.