Box Hill Childcare Centre
We are excited to announce the opening of our brand new childcare centre in Box Hill. Situated in the developing suburb of Box Hill, our Box Hill childcare centre will cater to 120 children across six classrooms.
Our brand new childcare in Box Hill is situated in the developing suburb of Box Hill making it a convenient location for you and your family to get premium early learning education close to home!
At Young Academics our Box Hill childcare centre boasts a range of learning environments that allow children to explore, discover and learn in both individual and group settings. Our Box Hill childcare centre includes purpose-built classrooms and large outdoor play areas, our childcare in Box Hill is designed to support children to move freely between the indoor and outdoor learning environments.

The expansive outdoor learning environment at our Box Hill childcare features natural play resources such as a sandpit and garden beds, allowing children to explore and be close to nature within a safe and stimulating environment.

The indoor learning environment at our Box Hill childcare centre includes a large dining room which is adjoined to the kitchen, creating a family feel to mealtimes. And an on-site cook prepares five delicious and nutritious meals and snacks every day, which children enjoy together with their educators and peers.

All nappies and wipes are included at our Box Hill childcare centre, as well as cot linen provided (excludes stretcher bed linen).
Our Box Hill childcare centre is the ultimate early learning centre in Box Hill if you are looking to nurture your child's creativity and instil positive early learning practices. Our experienced Box Hill early childhood educators make our Young Academics centre one of the very best Box Hill childcare facilities in the area!
If you are looking for childcare centres closer to your home in Western Sydney, you can check out our Guildford early learning centre, our Harris Park childcare centre or our Marsden Park Centre.

If you're looking for more information about our Box Hill childcare facilities you can contact a member of our Young Academics team today and unlock a world of excellent early childhood education for your children.
Victoria Vasilas
Center Manager
Victoria brings over 6 years of Early Learning experience, and her passion for learning and personal growth has led her to acquire diverse skills in the childcare sector. Her curiosity and drive have allowed her to thrive personally and professionally, bringing a wealth of knowledge and benefits to the children and community of Box Hill.
"I am passionate about Early Learning and its impact on a child's growth and development, so I bring a child-centred approach to my centre, always putting children's voices and interests first. Under my care, they are treated as active participants and rights holders, allowing us to develop respectful relationships, and I work to ensure this is across my team.
Working at Young Academics is a wonderful experience. The ongoing growth opportunities and support team make me feel valued and invested in a team that cares. My diverse experience in the industry also makes me a good mentor and manager.
What I love most about the Box Hill community is its constant growth and change. The fact it is a growing community means that there are lots of new connections forming.
I am excited to grow the centre, welcome children, families, and educators, and contribute to a family-friendly community within the centre."
Fees
*fees may be subject to change prior to opening
Helpful information
What we provide
5 nutritious meals prepared fresh daily by our on-site cook
Personal care resources like nappies, bibs and wipes
Ongoing parent/educator correspondence via our parent app
Cot linen provided (excludes stretcher bed linen)
Safe and secure centres with keypad access
Hats and sunscreen for play time
What to bring
Formula
Spare change of clothing
Water bottle
WHAT OUR FAMILIES
HAVE TO SAY
Book a tour
Explore our state-of-the-art facilities in-person, meet the local educators and learn more about how our programs will benefit your child.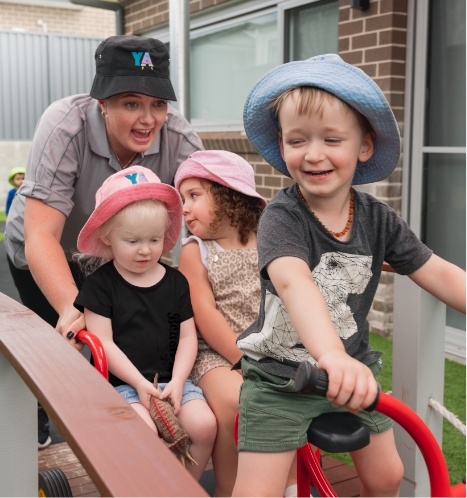 Opening of this proposed childcare service is subject to regulatory approval and expressions of interest may not be processed if regulatory approval is not obtained.