Westmead Childcare Centre
Welcome to Young Academics, Westmead. Our childcare in Westmead provides a safe, loving and stimulating environment where children can thrive. Our state-of-the-art facility at our  Westmead early education centre and dedicated team of experienced educators are committed to providing the best care.
Spacious, well equipped indoor classrooms feature carefully designed play areas to encourage imaginative play, social interaction and cognitive development. The expansive outdoor play areas offer a safe and engaging space for children to run, climb, and explore. Our Westmead early education centre is equipped with age-appropriate play structures, sandpits and plenty of room to roam. The outdoor spaces are designed to inspire a love for nature and a sense of wonder about the world around us.
Healthy eating habits are cultivated from a young age at our Westmead early education centre . At Young Academics, we provide nutritious, balanced meals and snacks prepared on site. Our menus are carefully curated to offer a variety of fresh fruits, vegetables, whole grains and protein. We accommodate dietary restrictions and work closely with families to ensure every child's individual needs are met.
All nappies and wipes are included. Cot linen provided (excludes stretcher bed linen).
Discover the Young Academics Difference at Our Westmead early education centre
When you choose Young Academics Westmead for your Westmead childcare you're choosing an early learning centre that puts your child's well-being and development first. With a strong focus on early learning, a nurturing environment, and experienced educators, we are committed to providing the best childcare Westmead has to offer.
Enrol your child with us today at our Westmead early education centre  and witness the positive impact of our early learning programs in their journey of growth and discovery. Schedule a tour or contact us to learn more about our Westmead childcare services.
At Young Academics we have a number of early learning centres in Western Sydney, including our early learning centre in Schofields, and Merrylands early learning centre. To find your nearest centre, please call us on 1300 668 993
Fees
*fees may be subject to change prior to opening
Helpful information
What we provide
5 nutritious meals prepared fresh daily by our on-site cook
Personal care resources like nappies, bibs and wipes
Ongoing parent/educator correspondence via our parent app
Cot linen provided (excludes stretcher bed linen)
Safe and secure centres with keypad access
Hats and sunscreen for play time
What to bring
Formula
Spare change of clothing
Water bottle
WHAT OUR FAMILIES
HAVE TO SAY
Book a tour
Explore our state-of-the-art facilities in-person, meet the local educators and learn more about how our programs will benefit your child.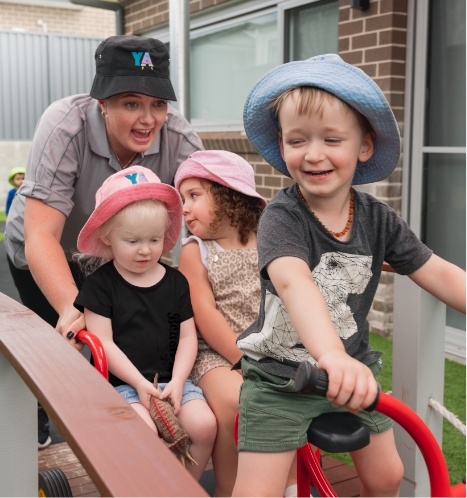 Opening of this proposed childcare service is subject to regulatory approval and expressions of interest may not be processed if regulatory approval is not obtained.