Westmead Childcare Centre
We are excited to announce our brand-new childcare centre in Westmead. Situated in the residential area of Westmead, this unique centre will cater to 44 children over two levels, with a secure car park that will make pick up and drop off safe and secure for you and your family.
Designed over two spacious levels with distinctive zones for both independent and planned group learning experiences, our learning environments are well equipped with the latest resources to inspire creativity, cognitive development and children's foundational  skills. 
Purpose-built classrooms include learning stations with engaging resources in the areas of literacy, numeracy, art and STEM (science, technology, engineering and mathematics), while the generous outdoor learning environment includes a sandpit and natural garden beds to build children's connection with their natural environment. 
In addition to organised learning experiences, children have plenty of opportunity for imaginative and experiential play, as well as outdoor experiences to improve their gross motor skills and coordination. 
Our team of highly skilled educators are committed to the development and emotional wellbeing of every child, helping them build resilience, friendships and problem-solving skills. 
Children up to age three participate in our tailored Evolution Program, while those between three and five join the Transition to School Program. 
An on-site cook prepares five tasty, nutritious meals and snacks every day, which children enjoy together with their peers. 
All bed linen, nappies & wipes are supplied. A secure car park is available for safe and secure drop-off and pick-up.
Helpful information
What we provide
5 nutritious meals prepared fresh daily by our on-site cook
Personal care resources like nappies, bibs and wipes
Ongoing parent/educator correspondence via Kinderloop
Cot and bed linen for rest time
Safe and secure centres with keypad access
Hats and sunscreen for play time
What to bring
Formula
Spare change of clothing
Water bottle
WHAT OUR FAMILIES
HAVE TO SAY
Book a tour
Explore our state-of-the-art facilities in-person, meet the local educators and learn more about how our programs will benefit your child.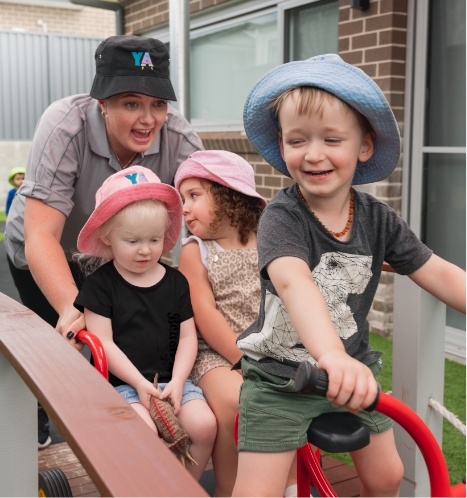 Opening of this proposed childcare service is subject to regulatory approval and expressions of interest may not be processed if regulatory approval is not obtained.