Tahmoor Childcare Centre
We are excited to announce our state-of-the-art childcare centre in Tahmoor.
The centre has five purpose-built classrooms filled with an abundance of natural light. Our outdoor play space sprawls across a generous area, offering children exciting opportunities to explore and discover the wonders of nature whilst being in a safe and nurturing environment.
Why choose Young Academics for childcare in Tahmoor
At the heart of the centre are passionate educators and teachers who lead the play-based Evolution and Transition to School programs. These programs promote holistic development, including learning experiences in literacy, numeracy, S.T.E.A.M, physical and emotional health and wellbeing, life skills, and creativity. The centre's unique programs are designed to help children thrive and develop a lifelong love for learning. 
Through these programs, children are encouraged to engage in both individual and group settings, which fosters a sense of community and belonging.
Our dedicated early childhood educators at our childcare centre in Tahmoor are committed to ensuring your child has the best possible start to their schooling journey. Step into our childcare centre in Tahmoor and experience the ultimate Tahmoor childcare experience for your children! 
At Young Academics we have a number of early learning centres in the Macarthur Region, including our early learning centre in Smeaton Grange, Narellan childcare centrs and our Gregory Hills early learning centre. To find your nearest centre, please call us on 1300 668 993 
Jami Turner
Center Manager
Jami is an experienced early childhood professional with 7+ years of experience in the childcare sector. She manages our Tahmoor Centre and is passionate about working with children. Her calm and approachable nature has made her a beloved figure in the community, and she brings a wealth of advantages to the centre.
"I have worked in the early childhood sector for 7+ years and proudly lead Young Academics Tahmoor. In this community, kindness, friendliness, and approachability of families add to the quality of our early education—we make it a team effort.
My motivation for entering the early childhood sector was always my love for children, especially as a mother of 2.
What I love most about working at Young Academics is the supportive and approachable nature of everyone here and the opportunities I get for professional growth. I started as a trainee and now manage a centre where I bring a calming, transparent and approachable personality to the staff, parents, and children in my care.
We are excited to share incredible resources for all ages, practise intentional teaching, and provide a welcoming environment that caters to children's interests.
We look forward to accommodating all, sharing our knowledge, and contributing to positive early learning."
Fees
*fees may be subject to change prior to opening
Helpful information
What we provide
5 nutritious meals prepared fresh daily by our on-site cook
Personal care resources like nappies, bibs and wipes
Ongoing parent/educator correspondence via our parent app
Cot linen provided (excludes stretcher bed linen)
Safe and secure centres with keypad access
Hats and sunscreen for play time
What to bring
Formula
Spare change of clothing
Water bottle
Book a tour
Explore our state-of-the-art facilities in-person, meet the local educators and learn more about how our programs will benefit your child.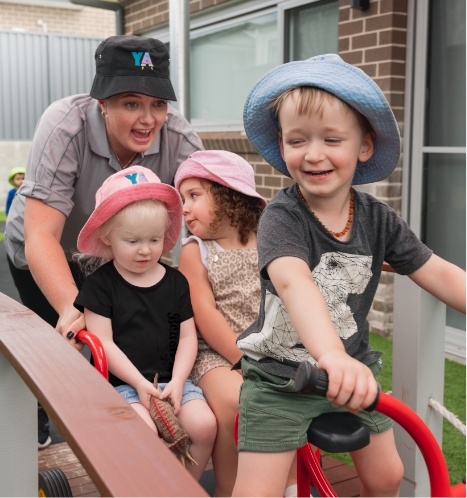 Opening of this proposed childcare service is subject to regulatory approval and expressions of interest may not be processed if regulatory approval is not obtained.