Harris Park Childcare Centre
Located just minutes from Parramatta CBD and local primary schools, our Harris Park Early Learning Centre offers state-of-the-art learning environments for children aged six weeks to six years old, on the grounds of Our Lady of Lebanon Co-Cathedral.
Our highly trained team of professional educators teach a rich program combining learning experiences with creative endeavours and play-based discovery to encourage children to develop their language skills, creativity and problem-solving abilities.
The spacious, light-filled indoor learning environment is packed with resources to inspire children's diverse interests, while the large, well-equipped outdoor learning environment provides space for dramatic play and social interaction to improve their gross motor skills, fitness and hand-eye coordination.
Infants (0-2 years) enjoy a dedicated separate outdoor area featuring age-appropriate equipment.
Children up to age three participate in our expert designed Evolution Program, while those between three and five participate in our Transition to School Program.
Children enjoy five meals and snacks every day which are prepared by the on-site kitchen staff. All bed linen, nappies and wipes are included.
Enter the Cathedral grounds to access underground basement parking for convenient pick-up and drop-off.
Jess Rasho
CENTRE MANAGER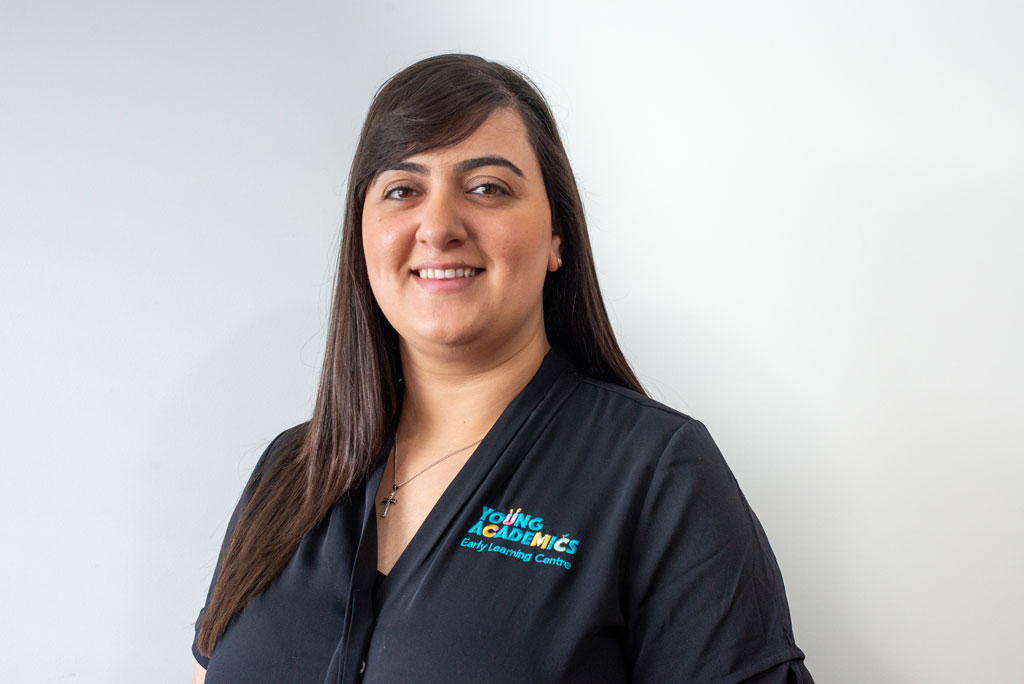 With more than a decade of experience as an early childhood educator, Jess has always been passionate about contributing to the fundamental years of children's learning and development, especially those from diverse backgrounds.
"The Harris Park community has many diverse backgrounds, which gives children a sense of belonging and helps develop their social skills. I love watching them come together and enjoy building a relationship with the local community.
"Young Academics' signature education programs offer a well-organised, quality foundation to learning, and our educators have strong relationships with our families, while providing a loving, happy, warm environment which encourages their children to thrive."
Helpful information
What we provide
5 nutritious meals prepared fresh daily by our on-site cook
Personal care resources like nappies, bibs and wipes
Ongoing parent/educator correspondence via Kinderloop
Cot and bed linen for rest time
Safe and secure centres with keypad access
Hats and sunscreen for play time
What to bring
Formula
Spare change of clothing
Water bottle
WHAT OUR FAMILIES
HAVE TO SAY
Book a tour
Explore our state-of-the-art facilities in-person, meet the local educators and learn more about how our programs will benefit your child.