Glenmore Park Childcare Centre
Our Glenmore Park Early Learning Centre provides an inspiring educational experience in a purpose-built learning environment designed to cater for the varied needs of children from 6 weeks to 6 years old.

Our childcare Glenmore Park facility offers spacious learning zones that invite children to explore, engage and imagine in a combination of self-directed play and planned experiences to encourage cognitive development, gross motor skills and social interaction.
Children love exploring in the Glenmore Park childcare centre's recently renovated outdoor learning environment which has plenty of room for physical activity, group exercise, exploration and sand play.

The Glenmore Park childcare centre's professional educators create a balanced curriculum which includes planned learning experiences, free play, yoga classes and rest time.

Children up to age three participate in our bespoke Evolution Program, while those between three and five join the Transition to School Program.
At mealtime, the children come together with their peers and educators to enjoy a menu of five delicious, healthy meals and snacks prepared by an expert in-house nutrition team each day.

All nappies and wipes are included at our Glenmore Park childcare centre and cot linen is provided (excludes stretcher bed linen).

Our Childcare Glenmore Park is the perfect place to nurture your child's creativity and instil positive early learning practices. Our experienced educators make our Young Academics centre one of the very best Glenmore Park childcare centres in the area! If you are looking for childcare centres closer to your home in Greater Western Sydney, you can check out our Penrith early learning centre, our Cranebrook childcare centre or our Coreen Ave Centre.

Contact a member of our team today to find out what our premier childcare Glenmore Park services can offer you and your child!
Hayley Ward
CENTRE MANAGER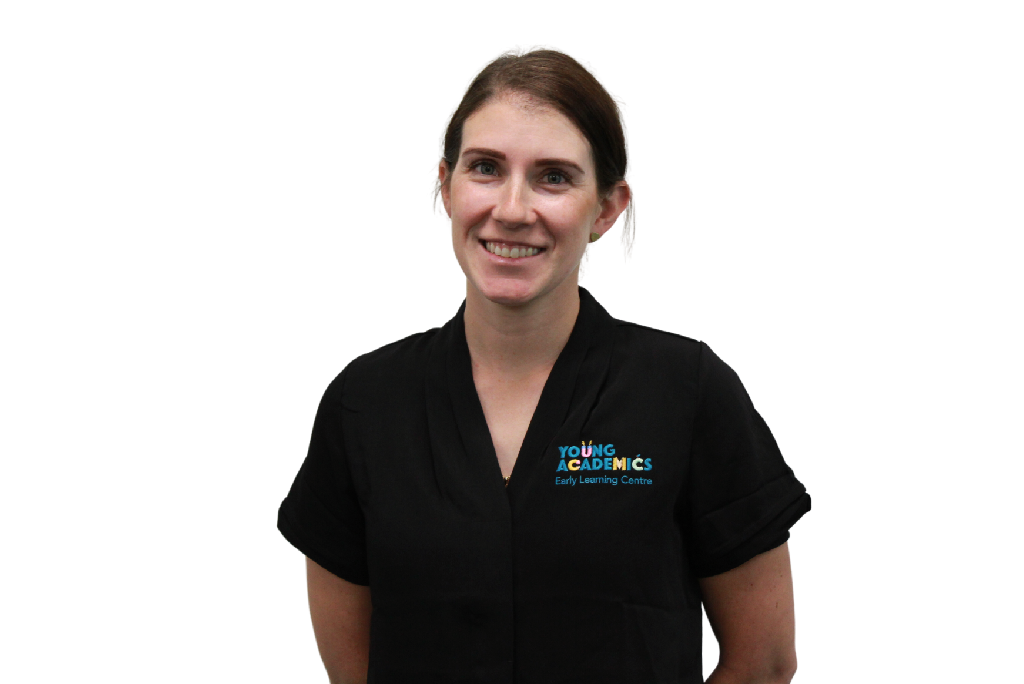 Hayley brings an extensive 15 years of experience to our Young Academics Glenmore Park service providing a professional early childhood education and care environment.
Hayley believes that every child deserves the best start to life, and is committed to providing a safe, healthy and positive environment in which they can grow and develop. Hayley and her team provide a daily routine that is flexible and embraces each individual child in an environment that is open and inviting for all children and families.
Her service is a place where families feel comfortable and children build lasting relationships whilst playing exploring, learning and having fun.
Hayley's philosophy in early learning centres around children learning and developing best when given opportunities to engage in challenging and stimulating natural play environments that encourage open ended interactions, risk taking, exploration and discovery. She believes in the importance of quality, inclusion, diversity and values partnerships with children, families and educators who all bring diverse ideas, cultures and values that enrich the service.
Helpful information
What we provide
5 nutritious meals prepared fresh daily by our on-site cook
Personal care resources like nappies, bibs and wipes
Ongoing parent/educator correspondence via our parent app
Cot linen provided (excludes stretcher bed linen)
Safe and secure centres with keypad access
Hats and sunscreen for play time
What to bring
Formula
Spare change of clothing
Water bottle
WHAT OUR FAMILIES
HAVE TO SAY
Book a tour
Explore our state-of-the-art facilities in-person, meet the local educators and learn more about how our programs will benefit your child.