Kingsford Childcare Centre
Our boutique Kingsford centre has undergone a full renovation and now caters for children aged 6 weeks to 6 years, in a setting that is equipped with age appropriate resources and facilities.
The newly renovated facility features two outdoor yards complete with brand new play forts, slides and more. Plus the new kitchen will ensure children enjoy a menu of five delicious, healthy meals and snacks every day, prepared by our in-house cook.
Positioned in a quiet residential street, the centre reflects the family-orientated nature of the region, with indoor and outdoor spaces that are designed to foster children's love of learning. Our environment encourages exploration and discovery, complemented by the natural surroundings.
Our Evolution and Transition to School programs consist of various forms of play, including physical, dramatic, sensory, nature, music, art and age-appropriate resources. Children can integrate different ways of learning by using real-life experiences in a new setting, which is essential for building life skills.
Why Choose Young Academics for Your Kingsford Childcare Centre?
Are you looking for a nurturing and inspiring environment where your child can grow, learn, and thrive? At Young Academics Kingsford, we are dedicated to providing the highest quality childcare and early learning services for families in Kingsford and surrounding areas. With our commitment to excellence, a passionate team of educators, and a well-rounded curriculum, we offer an outstanding early learning experience for children aged 6 weeks to 6 years old.
Exceptional Childcare in Kingsford
Our Kingsford early learning centre is designed to create a warm and welcoming atmosphere that fosters creativity, curiosity, and a love for learning. With a focus on individualised attention, we ensure that each child's unique needs and interests are met, allowing them to flourish at their own pace.
At Young Academics, we believe that children learn best through play, exploration, and hands-on experiences. Our carefully crafted early learning programs are designed to stimulate cognitive, social, emotional, and physical development. From interactive storytelling to engaging art projects, our activities are designed to spark imagination and instil a lifelong love for learning.
Our team of dedicated educators at the Kingsford childcare centre are highly qualified, experienced, and passionate about early childhood education. We believe that forming strong connections with our young learners and their families is essential in creating a supportive and nurturing environment.
Safety is our top priority. Our Kingsford daycare centre boasts modern, purpose-built facilities that meet the highest safety standards. We provide a secure and stimulating environment where your child can explore, play, and learn with confidence.
If you're searching for an "early learning centre near me" in Eastern Sydney, look no further than our Kingsford location. Our childcare centre is conveniently located, making drop-offs and pick-ups a breeze for busy parents.
At Young Academics Kingsford, we are committed to helping your child reach their full potential. Join our Kingsford childcare family today and let us be a part of your child's educational journey.
Laura Barrow
CENTRE MANAGER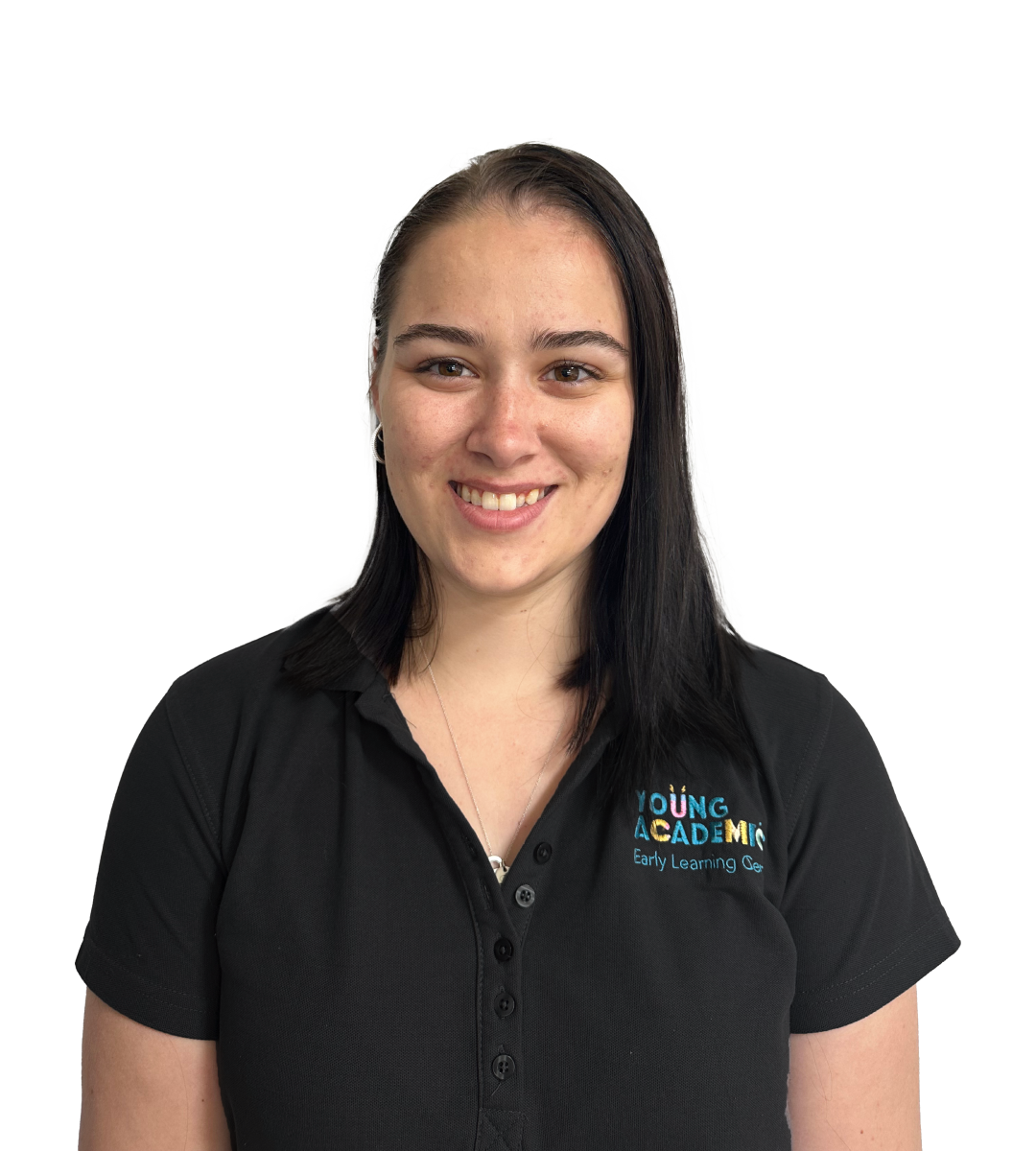 Laura, with over 4 years' experience in Early Childhood, is an experienced and passionate Centre Manager dedicated to providing quality learning experiences for young children.
Over the years, she has evolved and become a very passionate advocate for Early Childhood, having learnt and experienced the benefits early learning environments have which now influences her practise as she caters to each child and their respective families. Ultimately, it is her goal for the children in her service to feel safe so that they may all begin their journey to become self-sufficient, confident and resilient.
At Laura's service, families and children are welcomed into a collaborative education and care environment that is stimulating, allowing children to develop their skills, explore interests and learn through play. Laura honours and values diversity, equality and forming partnerships with families that are based on trust.
She believes in seizing teachable moments and sees every routine and time of the day as a learning opportunity.
Helpful information
What we provide
5 nutritious meals prepared fresh daily by our on-site cook
Personal care resources like nappies, bibs and wipes
Ongoing parent/educator correspondence via our parent app
Cot linen provided (excludes stretcher bed linen)
Safe and secure centres with keypad access
Hats and sunscreen for play time
What to bring
Formula
Spare change of clothing
Water bottle
WHAT OUR FAMILIES
HAVE TO SAY
I absolutely love Young Academics, I love their staff team and the facilities. My baby loves going too and she always has a big smile when I pick her up.

We are absolutely blown away by the excellent service that Young Academics has provided our 2 year old son (& us as a family) since coming to YA, Kingsford. The office support staff go over and above to accomodate where possible and they don't treat you like a number, but as a valued customer. On multiple occasions they have continued to offer excellent service and care. Our son was previously at another local daycare centre and our experience at YA Kingsford has been outstanding in comparison - and this has really shown us just how sloppy the other centre was. The staff and team at the YA Kingsford centre are friendly, warm, caring, fantastic communicators and dedicated to creating a welcoming environment for your child. They have also recently renovated their facilities and it's warm, clean, well equipped and safe. We HIGHLY RECOMMEND YA - thanks for all that you continue to do.

Trust this place for your kids. Amazing job by all teachers and management.

Book a tour
Explore our state-of-the-art facilities in-person, meet the local educators and learn more about how our programs will benefit your child.