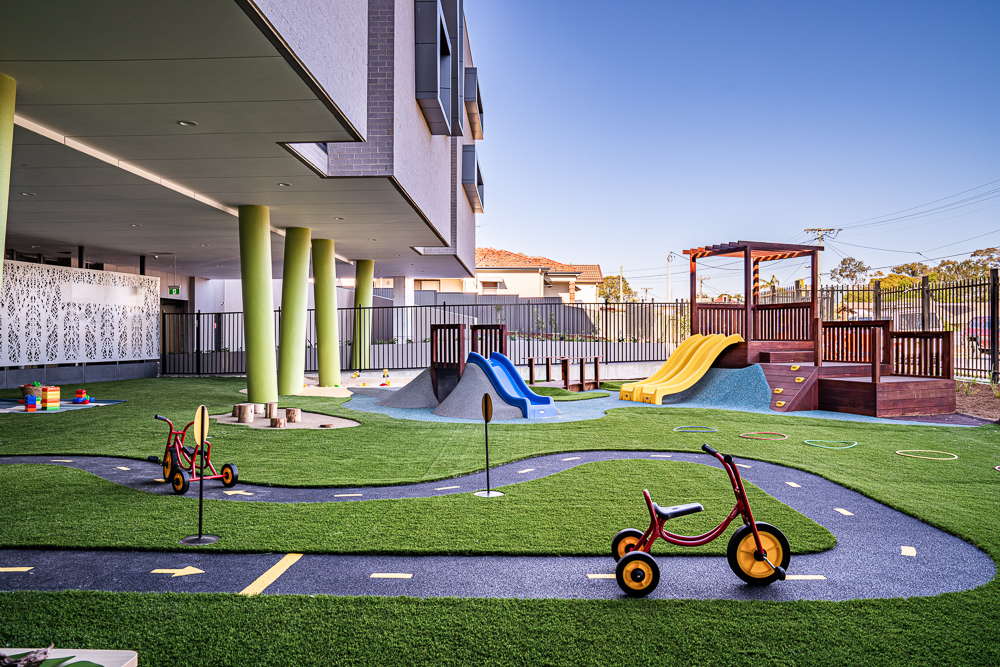 Guildford Childcare Centre
Strategically situated in a residential area and close to primary schools, our Guildford centre is open all year round and provides infant, day and preschool care to children aged between 6 weeks and 6 years.
This early learning centre is designed to stimulate child learning through bright colours, age-appropriate resources and tailored learning stations. Open spaces at our preschool are filled with resources that encourage your child's development, promoting both individual and group thinking.
The outdoor area at Guildford daycare is equipped with learning spaces that allow children to dance, sing, run, explore, create, observe and develop self-confidence. By bringing learning to life, children can learn and grow every day that they are in our care.
Our Guildford educators are from diverse backgrounds and many are multilingual. They enjoy teaching essential words and concepts to children, providing an ideal complement to our tailored Evolution and Transition to School programs, enriching your child's learning and encouraging social, physical and cognitive development.
Explore Our Daycare
Want to be part of our family? Book a tour or enquire about availability in our Guildford centre on:
1300 668 993
What we provide
5 nutritious meals prepared fresh daily by our on-site cook

Personal care resources like nappies, bibs and wipes

Ongoing parent/educator correspondence via Kinderloop

Cot and bed linen for rest time

Safe and secure centres with keypad access

Hats and sunscreen for play time
5 nutritious meals prepared fresh daily by our on-site cook
Personal care resources like nappies, bibs and wipes
Ongoing parent/educator correspondence via Kinderloop
Cot and bed linen for rest time
Safe and secure centres with keypad access
Hats and sunscreen for play time
Subscribe to
Young academics